Finance available. Reserve today with just £200.
OVERVIEW
Dimensions: 214 x 214 x 92cm
The Jacuzzi J-345 is stunning in design and also offers a truly amazing massage, it's safe to say that this hot tub has been designed to make you feel good! If you're somebody who believes that they would benefit from owning a hot tub that delivers an industry-leading massage, then this is the model for you. Seating up to 6 people and coming as standard with a multitude of high-end features, this premium hot tub doesn't just look the part… but it also plays the part. Equipped with SmartSeal insulation, the J-345 is one of the most energy-efficient hot tubs in the world.
CALCULATE FINANCE
ADD FINANCE
Please Note: finance calculations are estimated, we will contact you after your purchase to finalise pricing.
3 Years Labour Warranty
LED lighting
ClearRay
Bluetooth music
Four stage filtration
Smart Tub (optional)
A Closer Look At The J-345
Benefits of Spending Just 20 Minutes In a Hot Tub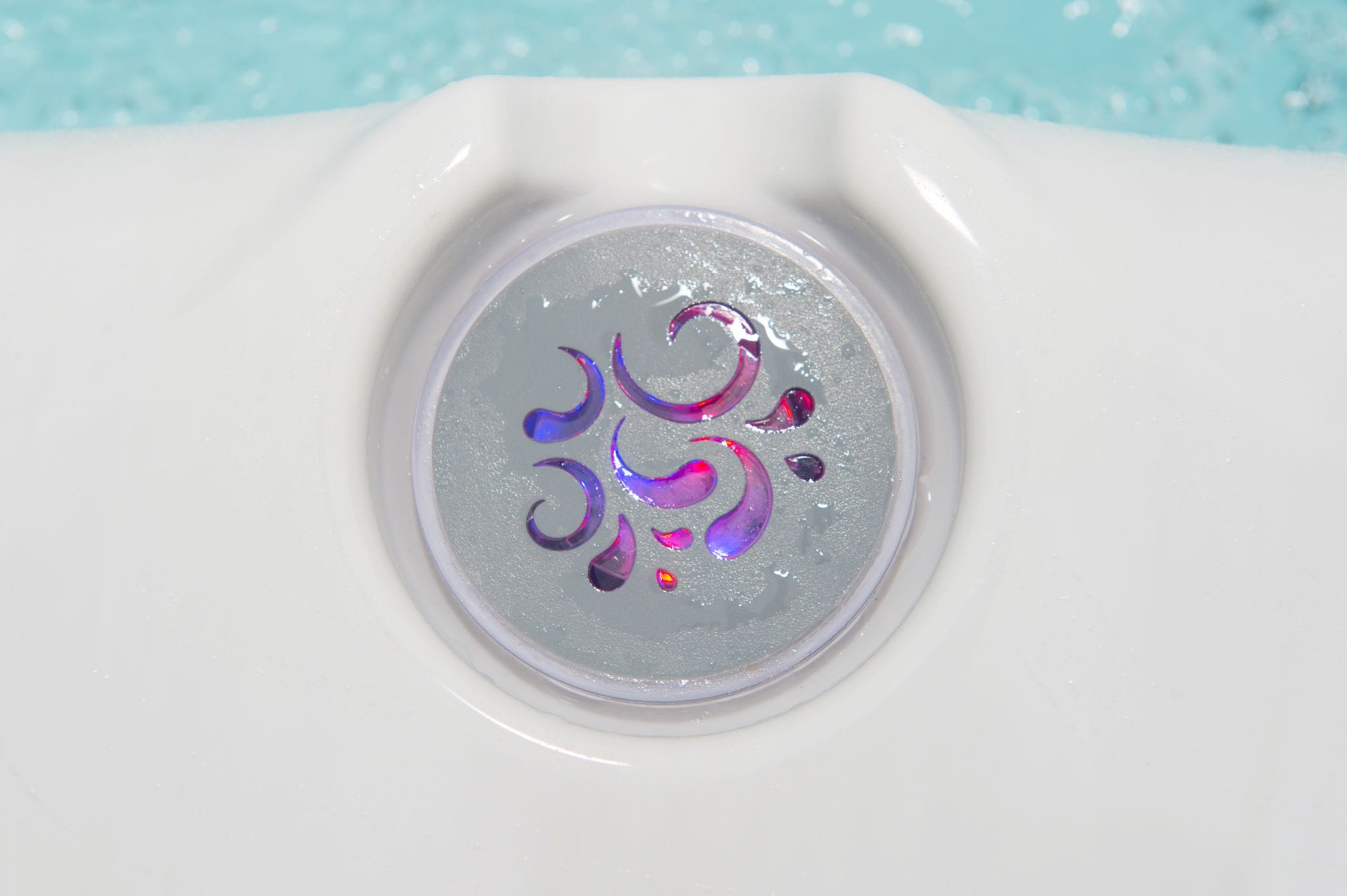 LIGHTING
In the Jacuzzi J-345, you have full control over the tone of the evening with a full range of mood-enhancing LED lights.
LED base light
Cabinet lighting
Backlit waterfall
Illuminated cup holders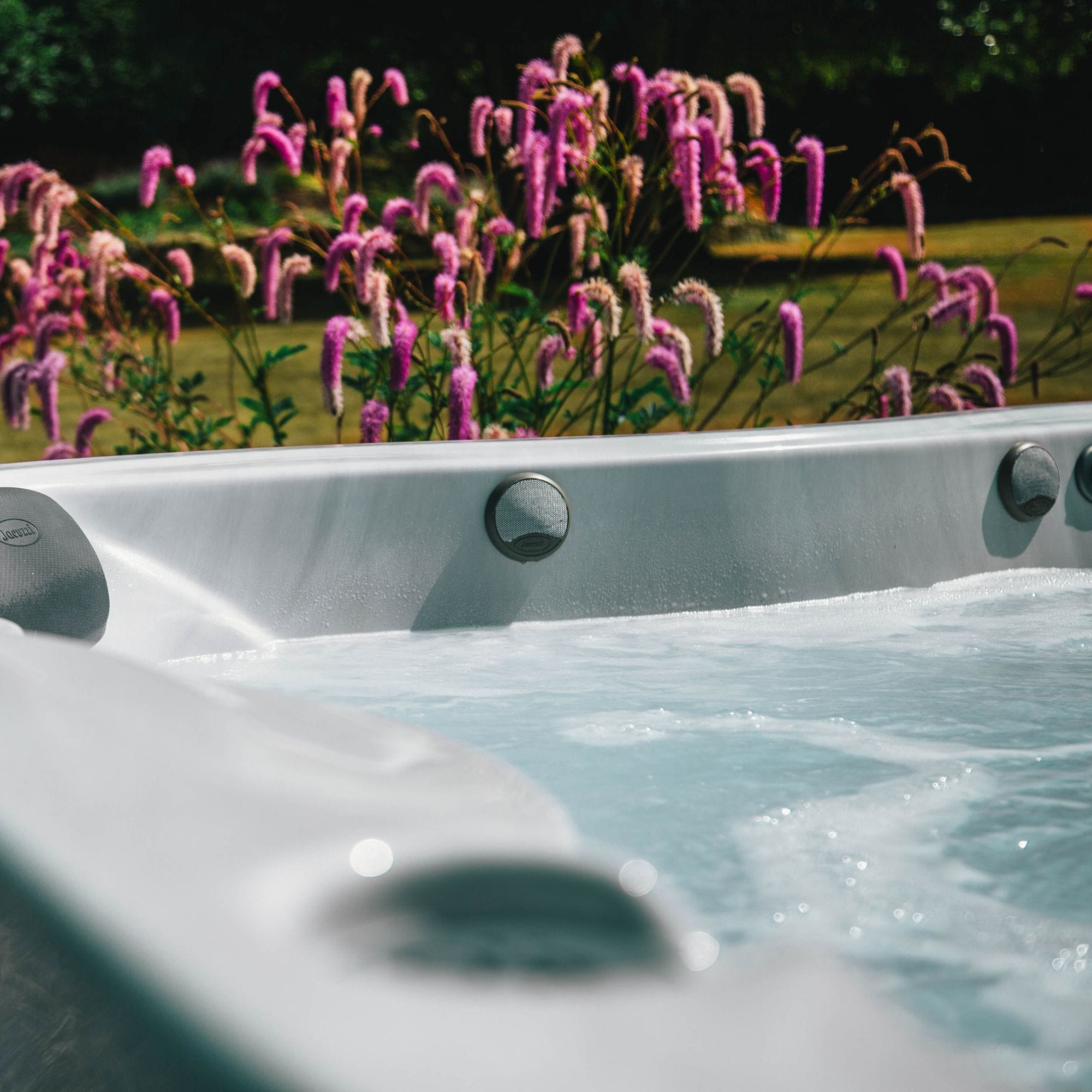 BLUETOOTH MUSIC
You'll be pleased to know that the Jacuzzi J-345 comes as standard with a high-quality Bluetooth music system. Featuring 4 x Jacuzzi speakers that have been installed in key areas, this allows users to hear their favourite tunes whilst the jets are turned on.
Oh, did we mention that the music is equally crisp as it is LOUD!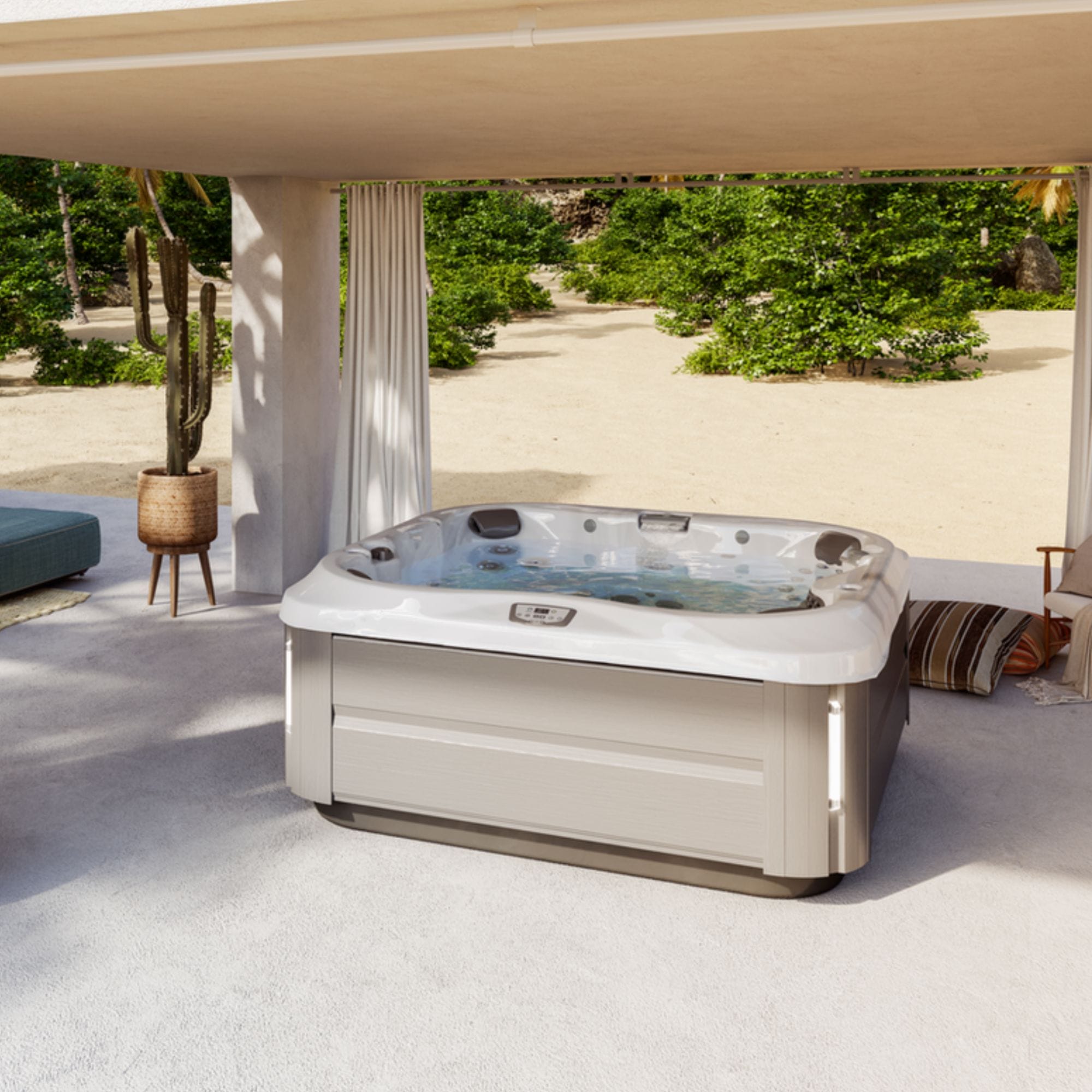 INSULATION
Many people are keen to know how much it costs to run one of our Jacuzzi® hot tubs, but with every owner using theirs in a different way, it can be very difficult to give an entirely accurate, one-size-fits-all answer. However, what we can tell you is that all Jacuzzi spas are put through rigorous independent testing by the California Energy Commission (CEC) who set stringent standards for how much energy a hot tub can use.
Thanks to the high-quality design, insulation and smart technology, the Jacuzzi® J-345 hot tub exceeds these standards by 29%, giving you the peace of mind that you are choosing one of the most energy-efficient spas in the world.
The J-345 also comes as standard with a thick, well-insulated cover.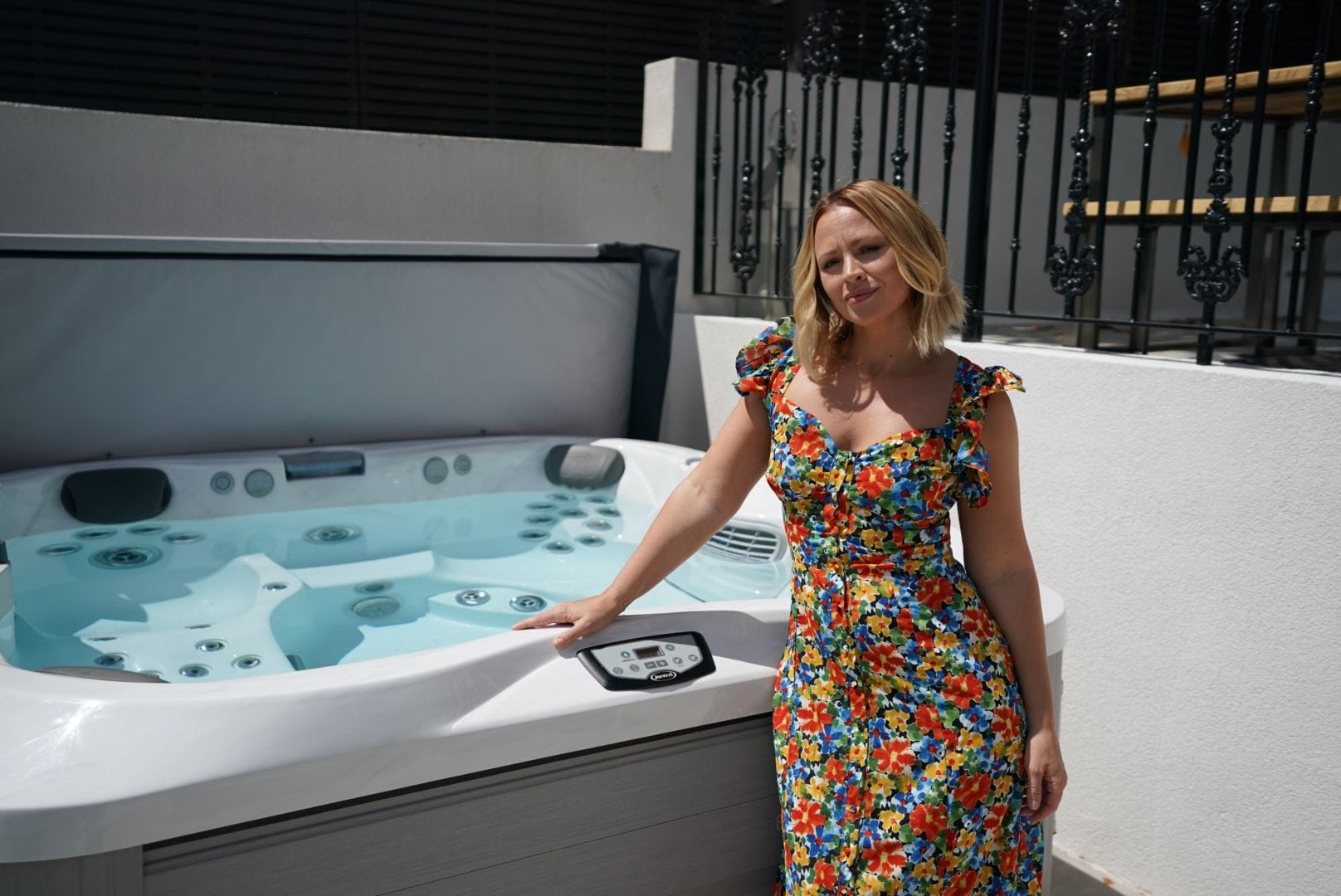 WHY CHOOSE JACUZZI?
The road bridging ancient hot tubs and modern spas is a long and interesting one leading back to the Jacuzzi brothers. After immigrating to California from Italy in the early 1900s, the Jacuzzi family initially made their living as inventors, designing advancements in aviation and water pumps for agricultural use (specifically, orange groves). But it was their submersible pump, the first in the world, which pulled water from the ground that was the first step that led them towards the Jacuzzi® Brand you know today.
In 1956, a Jacuzzi family member developed rheumatoid arthritis. In an effort to reduce the pain associated with this child's affliction, the Jacuzzi brothers used their knowledge of hydraulics to create a hydrotherapy pump, the J-300. This pump was portable and transformed any standard bathtub into a rejuvenating spa, launching the wellness industry.
Many years later Jacuzzi has established itself as the go-to brand of hot tubs for the rich, famous, professional sportspeople and anyone seeking the best hydro-massage possible. They're a top-quality brand that you can trust.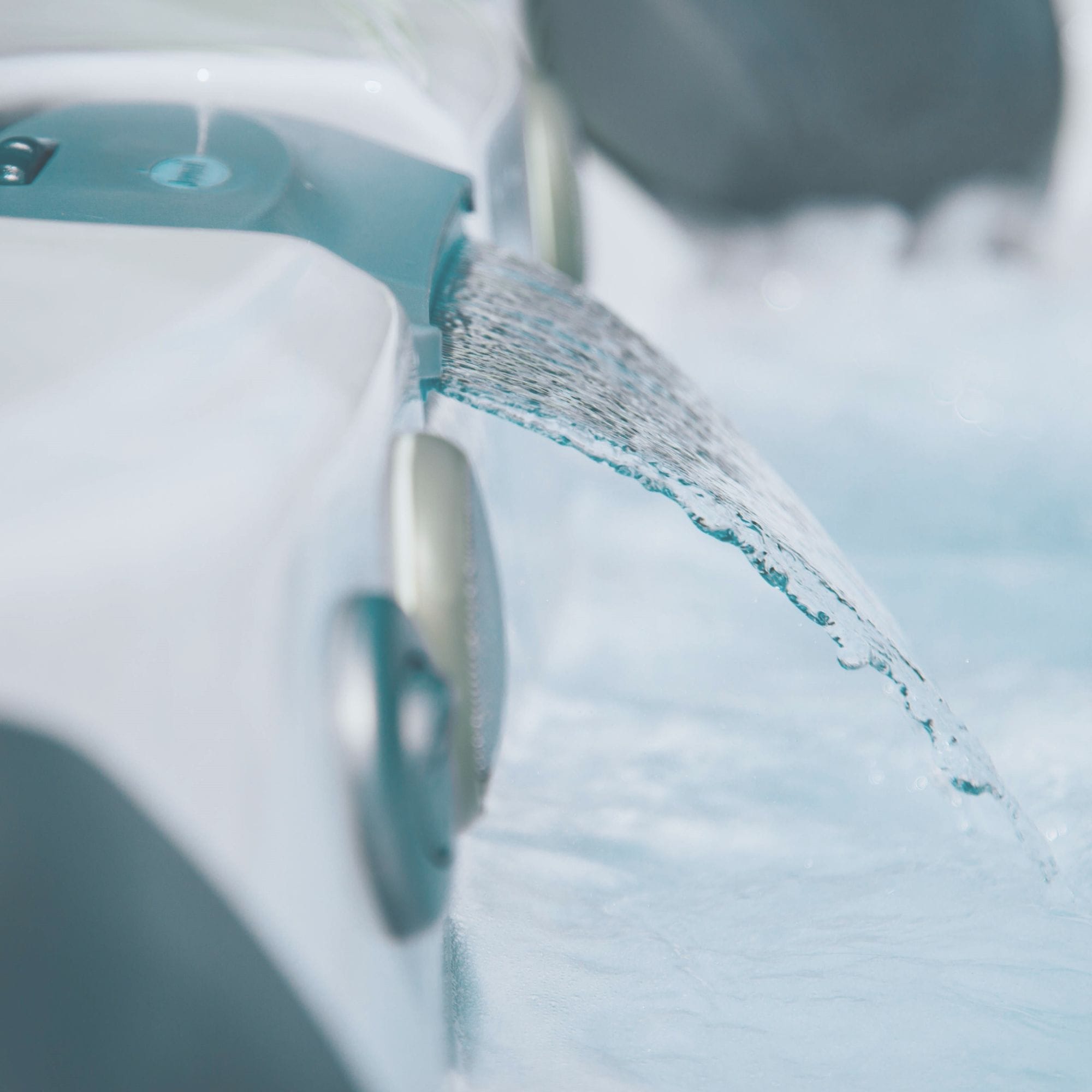 ClearRay Water Purification
The clarity of your hot tubs water is important to Jacuzzi, which is why they have integrated their patented U.V. and Ozone combined sanitation system with four-stage filtration.
CLEARRAY® utilizes the same UV-C technology that beverage manufacturers, municipal wastewater plants, hospitals and other healthcare environments use without producing or adding gas, chemicals, or other by-products to the water as a result.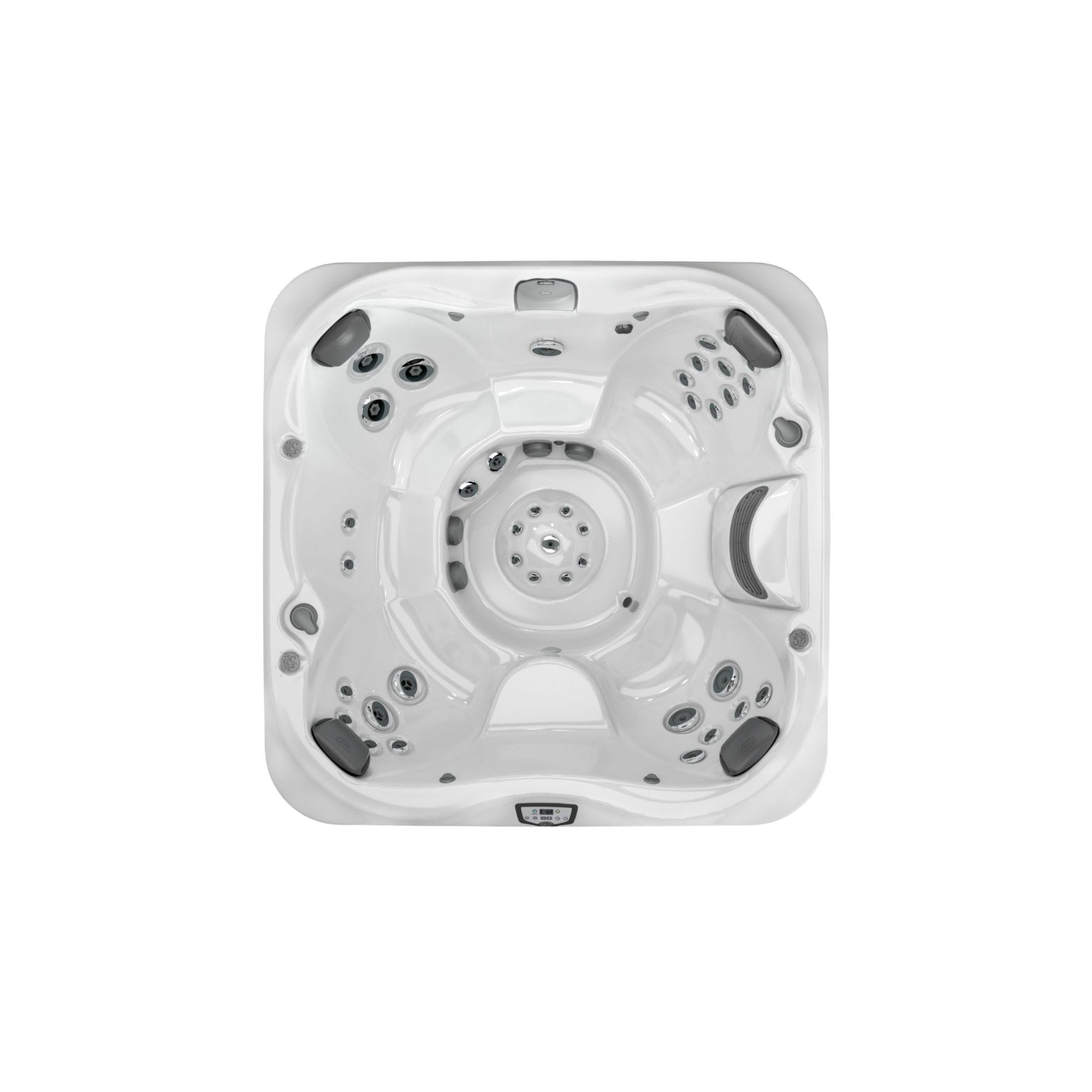 SPACE
Measuring 214 x 214 cm, the Jacuzzi J-345 has seating for up to 6 people. However, we would suggest that this particular model is more comfortable as a 4-5 person spa.
CONTROL SYSTEM
The J-345 comes as standard with a sleek and easy-to-use Jacuzzi branded control system.
MASSAGE
When it comes to massage, the only thing better than a J-300 model is a J-400 model. Seriously, these hot tubs deliver a hydro-massage unlike anything else on the market. So, for those seeking the ultimate in hot tub hydrotherapy, the Jacuzzi j-345 is an excellent choice.
The J-300 range incorporates a well-balanced combination of both directional and rotational jets which also vary in size. We especially love the larger rotational jets, these act like a masseuse's thumbs, making circular motions around key areas of the body. But the best bit is that by using the diverters and the air system, you have full control over the intensity of the massage. Each seat in a Jacuzzi offers a different experience from the next, we recommend spending 5 minutes in every seat to obtain the maximum benefit that the J-345 offers.
The Jacuzzi J-345 offers an all-seated, social design with every seat facing a centre point. As such, this model has a foot dome located in the centre of the hot tub. Meaning that wherever you decide to sit, you will be able to have a foot massage from the foot dome.
Let's talk about the captain seat. This seat in particular targets down either side of the spine plus the centre and lower area of the spine. If you're someone who suffers from back pain or back stiffness, then you will love this seat. But wait… it gets better. This seat also comes with jets that target behind the knees and as with all of the seats in this hot tub is positioned in front of the foot dome.
One of our personal favourite seats in the Jacuzzi J-345 model is the seat to the left of the backlit waterfall. This seat includes 3 HUGE, directional jets that target the hips and also the centre spine. We can't stress how amazing this seat is!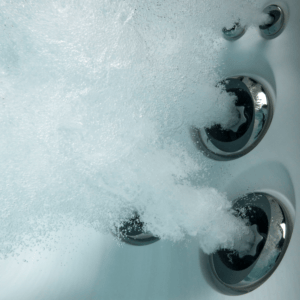 Smart Tub
Smart Tub is an optional extra on all J-300 models.
What does Smart Tub do? 
• Adjust the temperature, jets, and lights
• Lock down your hot tub and prevent usage
• Set up an automated usage schedule
• Get real-time notifications and reminders
• Track energy usage reports
• Pair with Siri, Alexa, Google Assistant and wearables
• Enjoy new features updated automatically
• Automatically alerts your dealer if your hot tub needs attention
• Detect power outages, freezing, and overheating
• Optimise energy savings with industry-first Smart Heat Mode, which learns your usage and lets you control how much energy you use
Cellular
The SmartTub® System incorporates the best technologies for connected products, leveraging the fact that hot tubs are located outdoors. Directly connect to local cell towers, Jacuzzi has partnered with major wireless carriers around the world to ensure stable networks with maximised performance without affecting your personal cellular plan.
SPECIFICATIONS
Seating Layout
6 x seats (+ 1 x entry step/ cool down seat)
Dimensions
214 x 214 x 92cm
Electrical Requirements
32 amp
Average Spa Volume
1401 litres
Control System
Jacuzzi own brand
Water Purification
ClearRay
Water Features
Backlit waterfall
More Information
INTERESTED IN THIS PRODUCT?
WHY NOT ADD TO YOUR CART!
Get in touch with us and our expert team will be happy to help answer any questions you have
WHAT PEOPLE SAY ABOUT US
"Mike and Heather were so patient and helpful with advice on the best hot tub for my needs and the space I had in my small garden. Cannot recommend them enough. A great local family run business."
"Greatest variety of hot tubs in north wales. Well informed experienced staff always willing to help and advise without pressure. After sales service second to none."
"Excellent service from this family run business. After-sales support is fantastic from very friendly and knowledgeable staff. Well stocked showroom for all your essentials. This company offers great local service in North Wales."
"Concept Spa have been just brilliant helping us to choose a hot tub for our holiday property on Anglesey. Nothing is too much trouble and they have really gone the extra mile."
"Brilliant family company. Nothing was too much trouble for them. Our experience from initial advice to delivery and installation all first class. Highly recommend Concept Spa for anyone thinking of purchasing a hot tub."
"I can not recommend this company highly enough! Jack's customer service, communication, advice, delivery and the hot tub itself were all outstanding. Thank you 🙏🏼"
"Amazing company and great service. The whole process is so easy and simple and nothing is too much trouble. Excellent value for money too and love my hot tub. Highly recommended."
"Had our fabulous hot tub delivered this week and would like to thank Heather, Mike, Bobbie and the team for everything. Excellent, friendly service since our first visit, a fantastic family run business."
"Concept Spa have been a dream to work with! Excellent customer service and after care. Their staff are knowledgeable, friendly and eager to please. Thank you Concept Spa!"
"Great Company to work with, amazing customer service. Genuine Family run business that cares about the products they sell and their customers."