Maranza Deluxe Louvered Pergola 3x3m
In Stock
Reserve your dream pergola today.
OVERVIEW
Dimensions: 300 x 301.5 x 229.5cm
Transform your outdoor space into the ultimate oasis for relaxation and socializing with the Maranza Deluxe Louvered Pergola. This exceptional structure boasts features that can easily adapt to any weather condition, allowing you to enjoy the outdoors all year round. The manual louvred roof shutters provide the flexibility to bask in the sunshine or seek shelter in the shade. To complete your experience, the Deluxe Screens ensure that your outdoor area is protected from wind and rain, so you can entertain guests or relax in peace. With the Maranza Deluxe Louvered Pergola, you can enjoy the outdoors in comfort and style, no matter the weather.
Manual Pergola
Pergola Type
Built using high quality materials
No planning permission required
Flexible features that adapt to all weathers
5 year warranty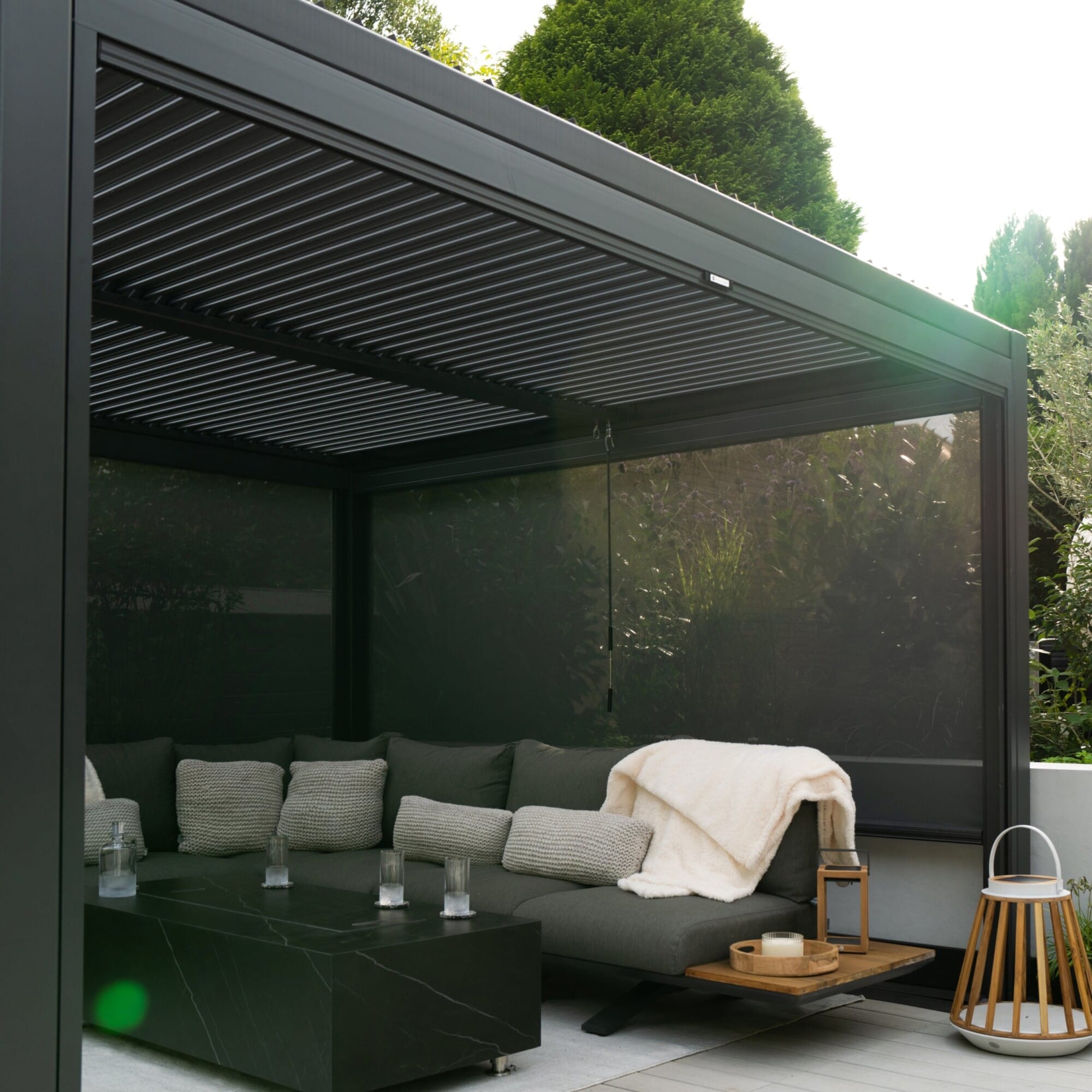 High-quality materials
The Pergola boasts a high-quality aluminium construction that is both weatherproof and durable, ensuring many years of outdoor enjoyment. Available in Matte Royal Grey or Matte White and both colour options come as standard with UV protection. This means that whilst the Maranza is shielding your loved ones from harmful UV rays, you won't need to worry about the colour fading.
Maintaining the Pergola is virtually effortless due to its rugged aluminium composition, making it an excellent investment for outdoor living spaces.
Optional side-screens are crafted from premium-grade Textilene, a PVC coated woven polyester non-stretch yarn that offers unparalleled strength and beauty. Not only is Textilene flame retardant and mildew resistant, but it also remains stable in hot or cold temperatures. This top-quality contract fabric has been rigorously tested up to wind force 4, ensuring lasting durability even in harsh weather conditions.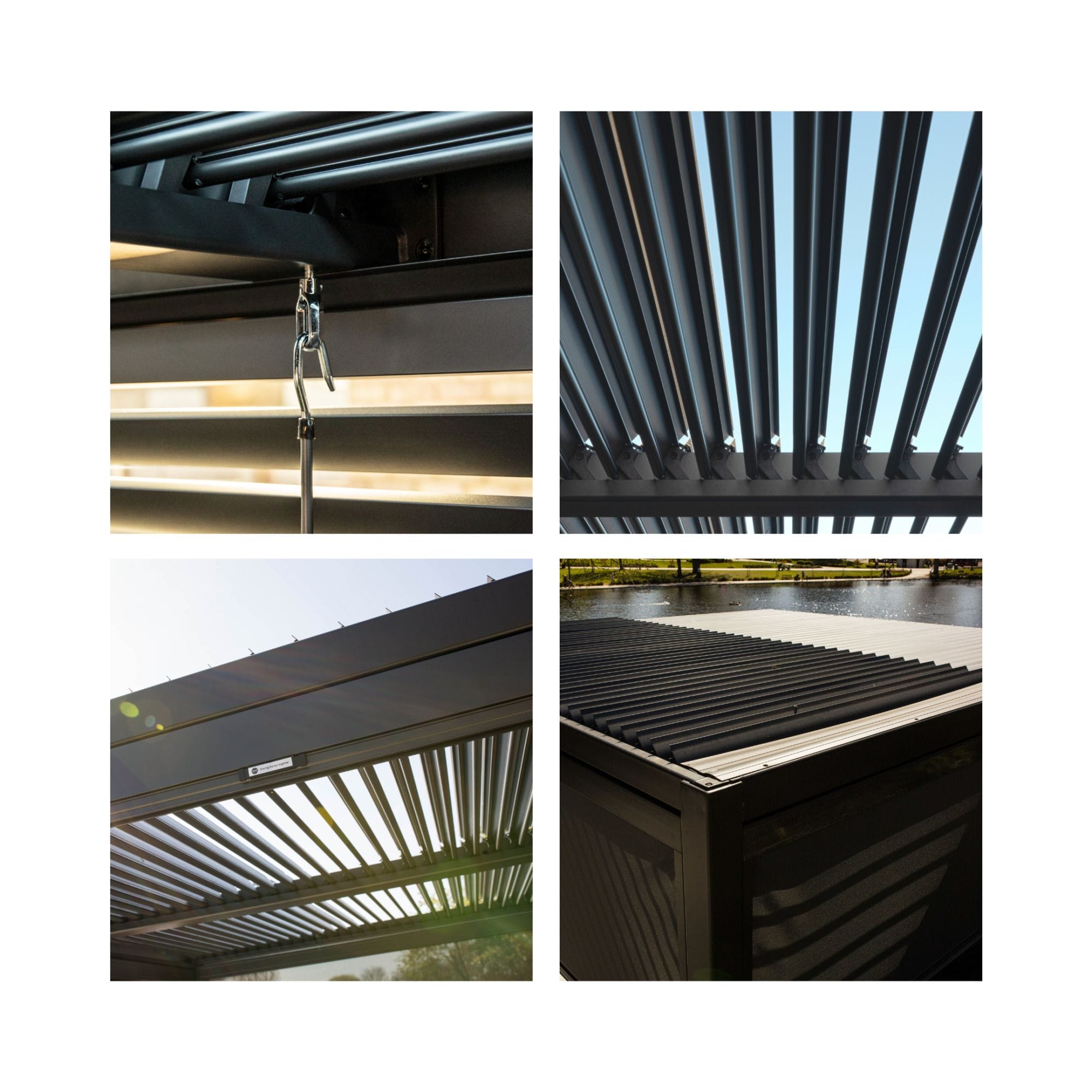 Louvered Roof
The Pergola's distinctive design is centred around its vented roof louveres, which can be controlled manually through winding mechanisms to create an open or closed space as desired. With its built-in drainage system, the Pergola can be quickly transformed into a weatherproof area by simply closing the louvred roof in response to changing weather conditions. Any rainwater that lands on the louveres will be effectively channelled into the guttering channels and drained through the legs to the ground. This ingenious feature adds to the versatility and convenience of this high-quality Pergola.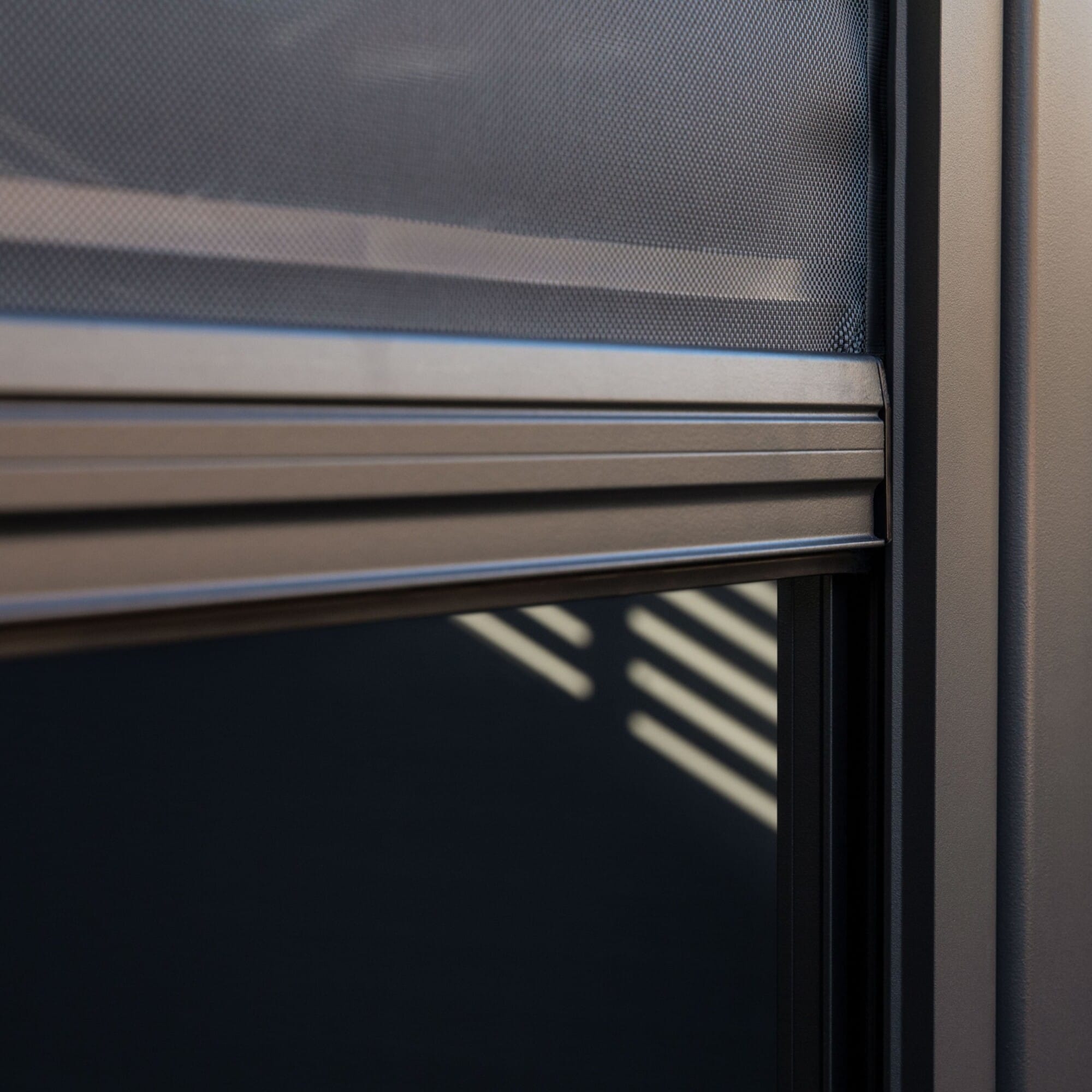 Screens
When selecting the optional side screens for the Maranza Deluxe Pergola, our Deluxe Screens are the recommended choice and are exclusively designed to match the Maranza Deluxe model. However, choosing this model also allows you to incorporate the Aluminium Vented Panels and mix and match as desired.
The Deluxe Screens are easily installed by zipping them into the Maranza legs, providing an extra layer of weather protection and enabling you to enjoy your outdoor area all year round, regardless of sun, wind or rain. Note that for optimal longevity, the screens should be retracted when the Pergola is not in use.
The Deluxe Screens are the standard option when adding them during purchase, but additional screens can be purchased.
Vented Screen Option
The Vented Panel is an aesthetically pleasing enhancement to the Maranza Pergola, offering a fixed panel solution that is both durable and weatherproof. The fixed horizontal louvres allow for ventilation and air to circulate, making it a stylish and practical addition to the Pergola.
They have been designed to be fitted between each set of legs and attach to the frame with a simple bolting system meaning they can be easily installed (and uninstalled if necessary) by using a rivet tool.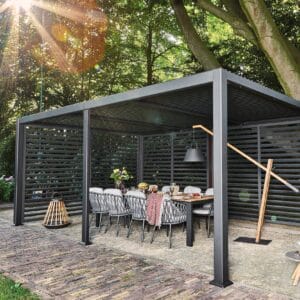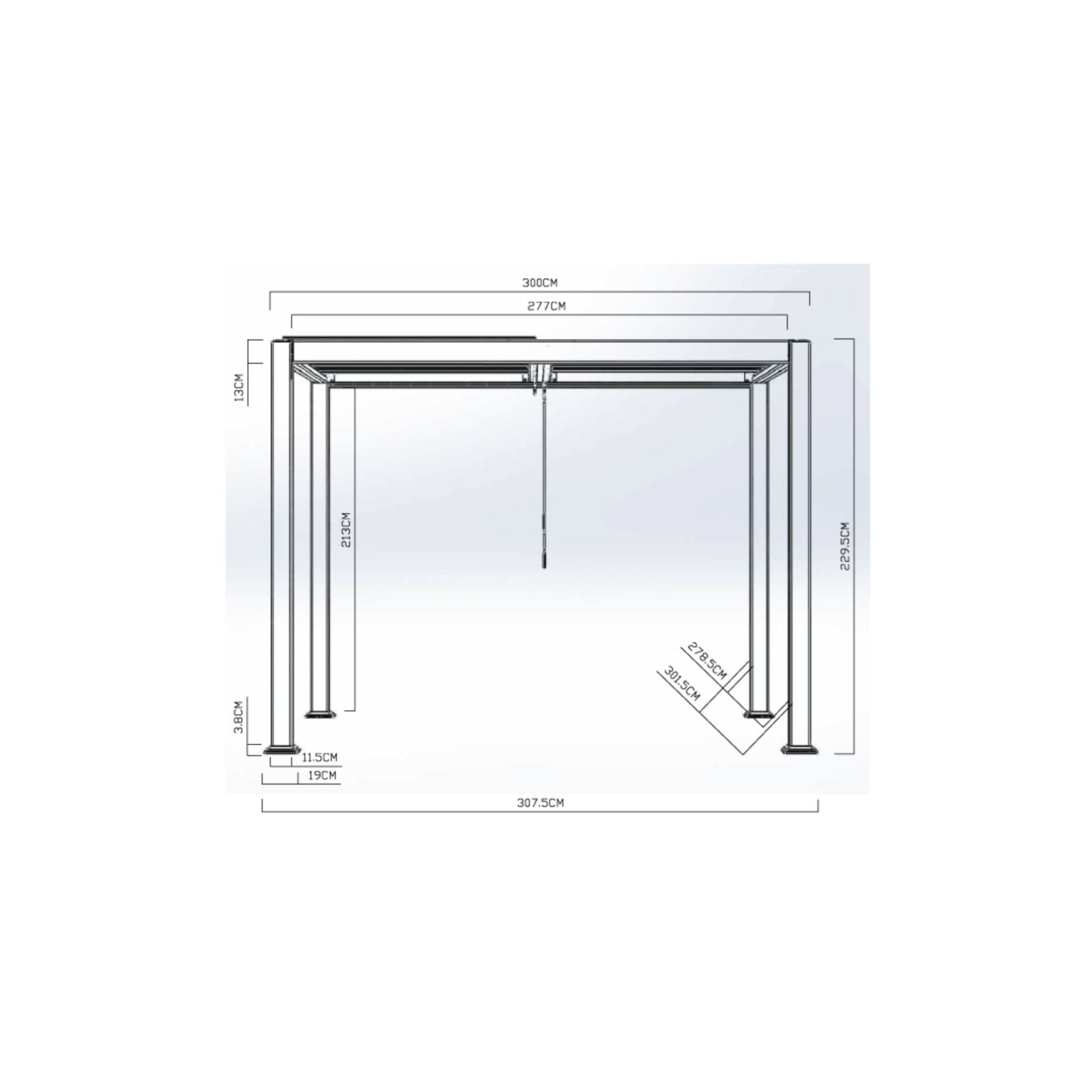 Measurements 1
The full height of the Maranza is 229cm at the top of the roof beam, and 216cm at the underside of the roof beam across all sizes.
The leg post is 11.5cm x 11.5cm and the footplate is 19cm x 19cm.
*Outside length is the measurement from footplate to footplate, these can be removed if needed. Please refer to the drawing for further dimensions.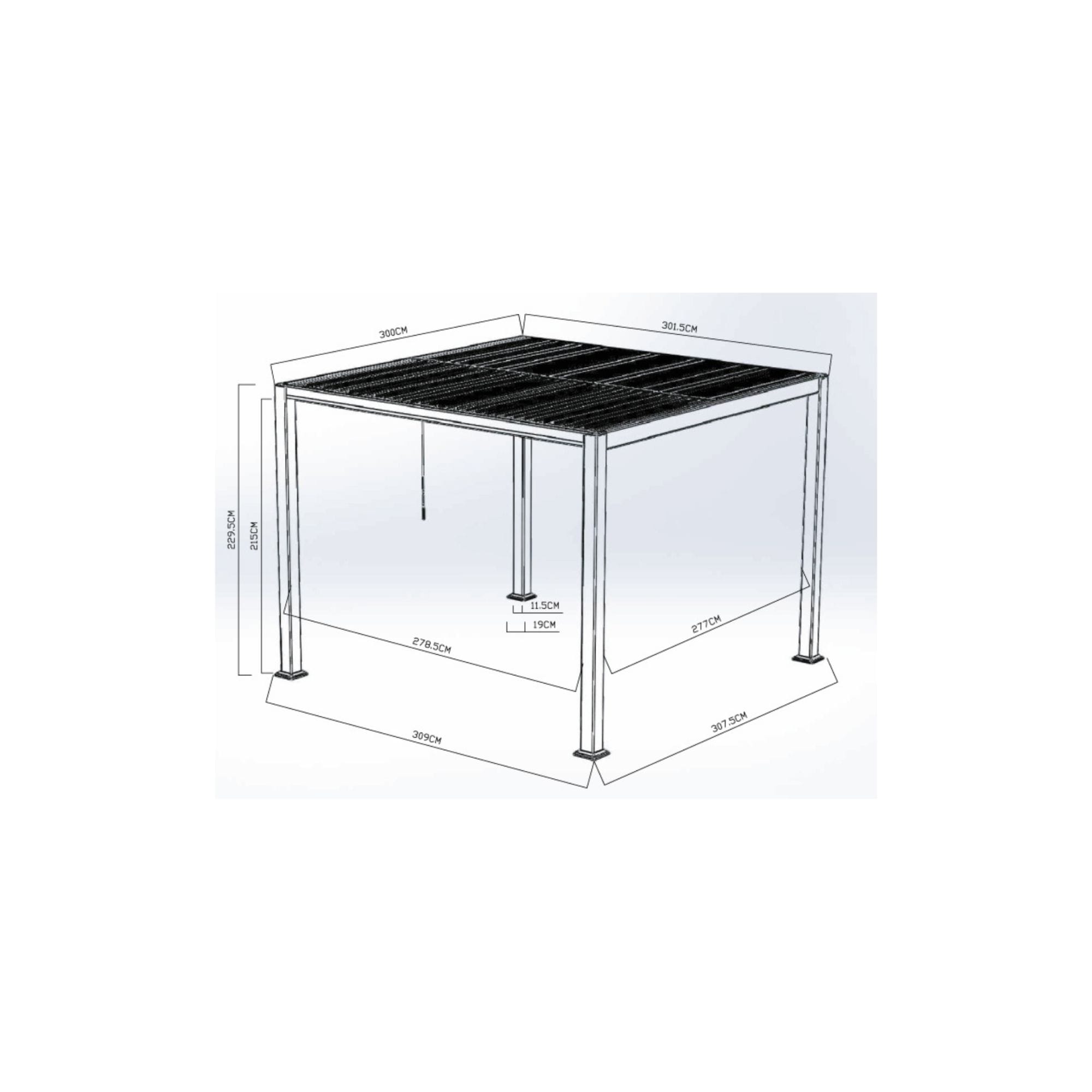 Measurments 2
If you need any help or guidance, please contact the team and someone will be more than happy to assist you.
Measurements 3
If you need any help or guidance, please contact the team and someone will be more than happy to assist you.
Warranty
The Maranza is resistant to wind up to a wind force of 120 km/h and boasts a 5-year warranty.
The sunscreens have a 2 year warranty.
Pre-Installation Guidance
For guidance on what is needed in preparation for your pergola installation, please refer to the 'Pergola Pre-Installation Guide' located at the bottom of the page, under 'More Information'.
If you get stuck or have any questions, then please call 01248 723207 and one of our friendly team members will be happy to help.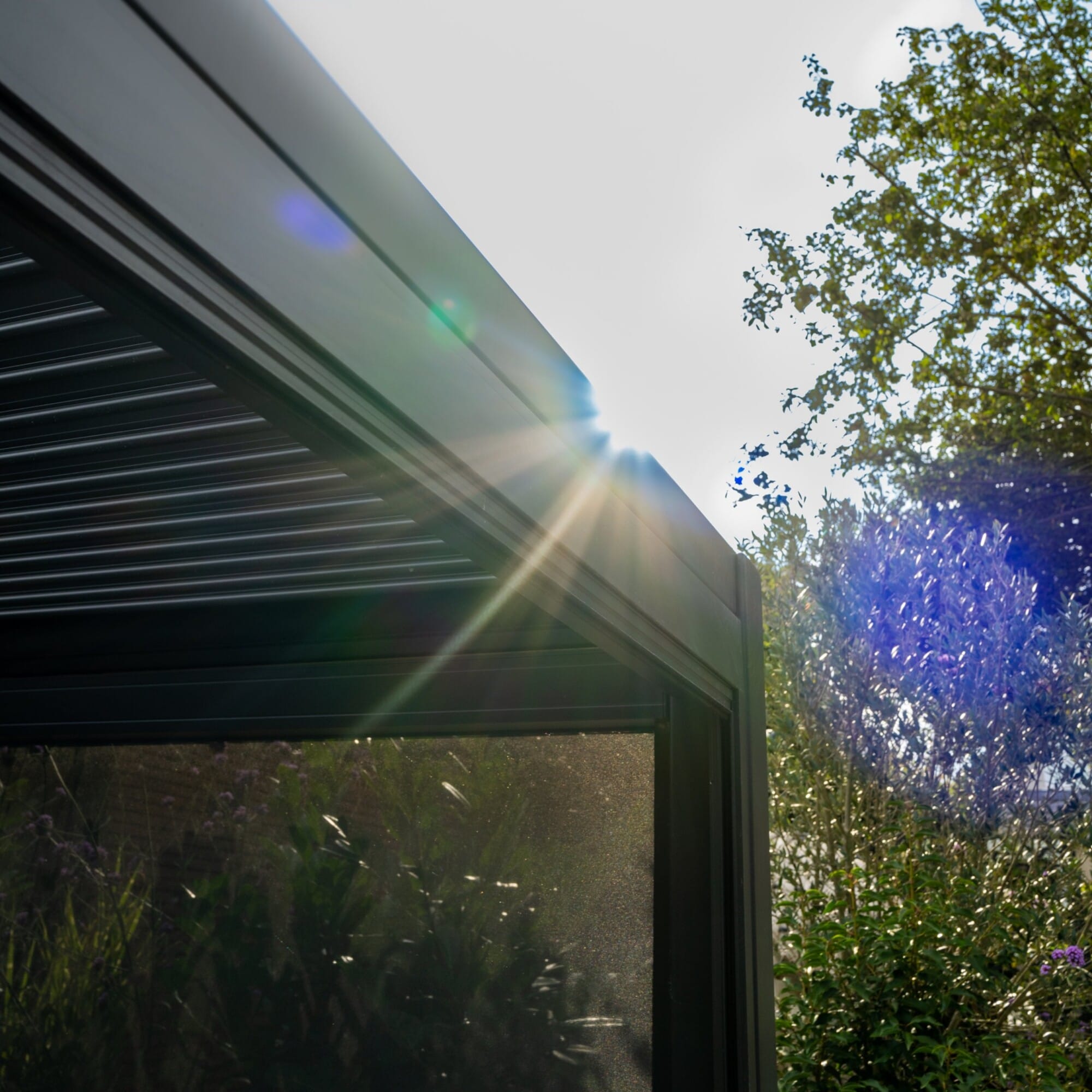 Why you need a louvered pergola
A louvered pergola is the ultimate addition to any outdoor space that will revolutionise your leisure time! With adjustable louveres, you get to choose whether you want to soak up the sun or relax in the shade while enjoying a refreshing breeze.
Not only are they stylish and fun, but they're also built to last! Made with durable, weather-resistant materials such as powder-coated aluminium, you can enjoy your pergola for years to come with minimal maintenance.
Louvered pergolas provide endless possibilities for outdoor entertainment, from hosting parties and barbeques to relaxing and reading a book. You can easily transform it into a cosy, weatherproof area by closing the louvred roof during rain or opening it up for fresh air on sunny days.
SPECIFICATIONS
Dimensions
300 x 301.5 x 229.5cm
Electrical Requirements
N/A
More Information
INTERESTED IN THIS PRODUCT?
WHY NOT ADD TO YOUR CART!
Get in touch with us and our expert team will be happy to help answer any questions you have
WHAT PEOPLE SAY ABOUT US
"Mike and Heather were so patient and helpful with advice on the best hot tub for my needs and the space I had in my small garden. Cannot recommend them enough. A great local family run business."
"Greatest variety of hot tubs in north wales. Well informed experienced staff always willing to help and advise without pressure. After sales service second to none."
"Excellent service from this family run business. After-sales support is fantastic from very friendly and knowledgeable staff. Well stocked showroom for all your essentials. This company offers great local service in North Wales."
"Concept Spa have been just brilliant helping us to choose a hot tub for our holiday property on Anglesey. Nothing is too much trouble and they have really gone the extra mile."
"Brilliant family company. Nothing was too much trouble for them. Our experience from initial advice to delivery and installation all first class. Highly recommend Concept Spa for anyone thinking of purchasing a hot tub."
"I can not recommend this company highly enough! Jack's customer service, communication, advice, delivery and the hot tub itself were all outstanding. Thank you 🙏🏼"
"Amazing company and great service. The whole process is so easy and simple and nothing is too much trouble. Excellent value for money too and love my hot tub. Highly recommended."
"Had our fabulous hot tub delivered this week and would like to thank Heather, Mike, Bobbie and the team for everything. Excellent, friendly service since our first visit, a fantastic family run business."
"Concept Spa have been a dream to work with! Excellent customer service and after care. Their staff are knowledgeable, friendly and eager to please. Thank you Concept Spa!"
"Great Company to work with, amazing customer service. Genuine Family run business that cares about the products they sell and their customers."