Chill Tubs Ice Bath
Ready For Order
Arrival into stock: January 2024
OVERVIEW
Dimensions: 73cm (W) x 180cm (L) x 75cm (D)
Introducing Chill Tubs, the innovative brand that has revolutionised the ice bath experience. Our Ice Bath is a game-changer for athletes, fitness enthusiasts, and anyone looking to soothe sore muscles and reduce inflammation. With the ability to reach temperatures as low as 3℃, our Ice Bath provides a truly invigorating and refreshing experience.
Crafted using high-quality materials such as teak, 304 stainless steel, and aluminium, our Ice Bath is not only durable and long-lasting but also a beautiful addition to any space. With its sleek design and expert craftsmanship, it's a favourite among athletes, fitness enthusiasts and anyone looking to improve their overall health and wellness.
Plus, our Chill Tubs Ice Bath even comes as standard with ozone sanitation and a built-in filtration system, keeping your water clean and clear for longer. So why settle for a subpar ice bath? Upgrade to Chill Tubs and take cold water immersion to the next level.
Temperature as low as 3℃
As seen on ITV This Morning
Ozone sanitation
Intergrated Filtration System
Made with quality materials
Take A Closer Look At Our Chill Tubs Ice Bath
Sally Gunnell Talks About Why She Bought A Chill Tub
Andrew Huberman: Ice Bath & Sauna Health Benefits
As Seen On ITV This Morning
Did you know our Chill Tubs ice bath was featured on ITV's This Morning in a segment about cold water therapy and its physical/ mental health benefits- Matthew Wright even got into the Chill Tub ice bath to try it out for himself!
It is amazing to see how cold water therapy is now becoming such a hot topic of conversation within popular media outlets.
Temperature as low as 3℃
Our Chill Tubs Ice Bath has been designed specifically to harness the benefits that cold water immersion offers. This is achieved using the latest technology available in the ice bath industry, allowing our Chill Tubs to reach temperatures as low as 3℃.
The optimum temperature for an ice bath to provide maximum benefit varies depending on the individual and their goals, but generally falls between 50-59°F (10-15°C) for post-workout recovery. Some studies suggest that a temperature of 50°F (10°C) is most effective for reducing inflammation and muscle damage after intense exercise, while others indicate that temperatures as low as 41°F (5°C) can be beneficial for endurance athletes.
Teak Top
Designed with a teak top finish which looks absolutely stunning.
304 Stainless steel
Our Chill Tubs Ice Bath comes with a high-grade 304 stainless steel interior.
Aluminium Cabinet
Beautiful aluminium cabinet, lightweight and durable.
Ozone Sanitation + Filtration System
Water clarity is paramount. This ice bath employs advanced Ozone technology to effectively eliminate pathogenic bacteria, viruses, and germs, ensuring prolonged water purity.
Furthermore, our Chill Tubs Ice Bath is equipped with an integrated filtration system for superior cleanliness
Space
The Ice Bath has enough space for people both shorter and larger in stature.
External dimensions: 73cm wide x 180cm long x 75cm deep
Internal dimensions: 64cm wide x 115cm long x 68cm deep.
As a size reference, the model displayed in the image above is 6ft tall with a wide frame.
Warranty
Our Chill Tubs warranty provides coverage for defects in workmanship and defects or malfunctions that arise during normal use conditions for a period of 2 years from the date of delivery.
Please download the warranty card located under 'More Information' below to view the warranty limitations.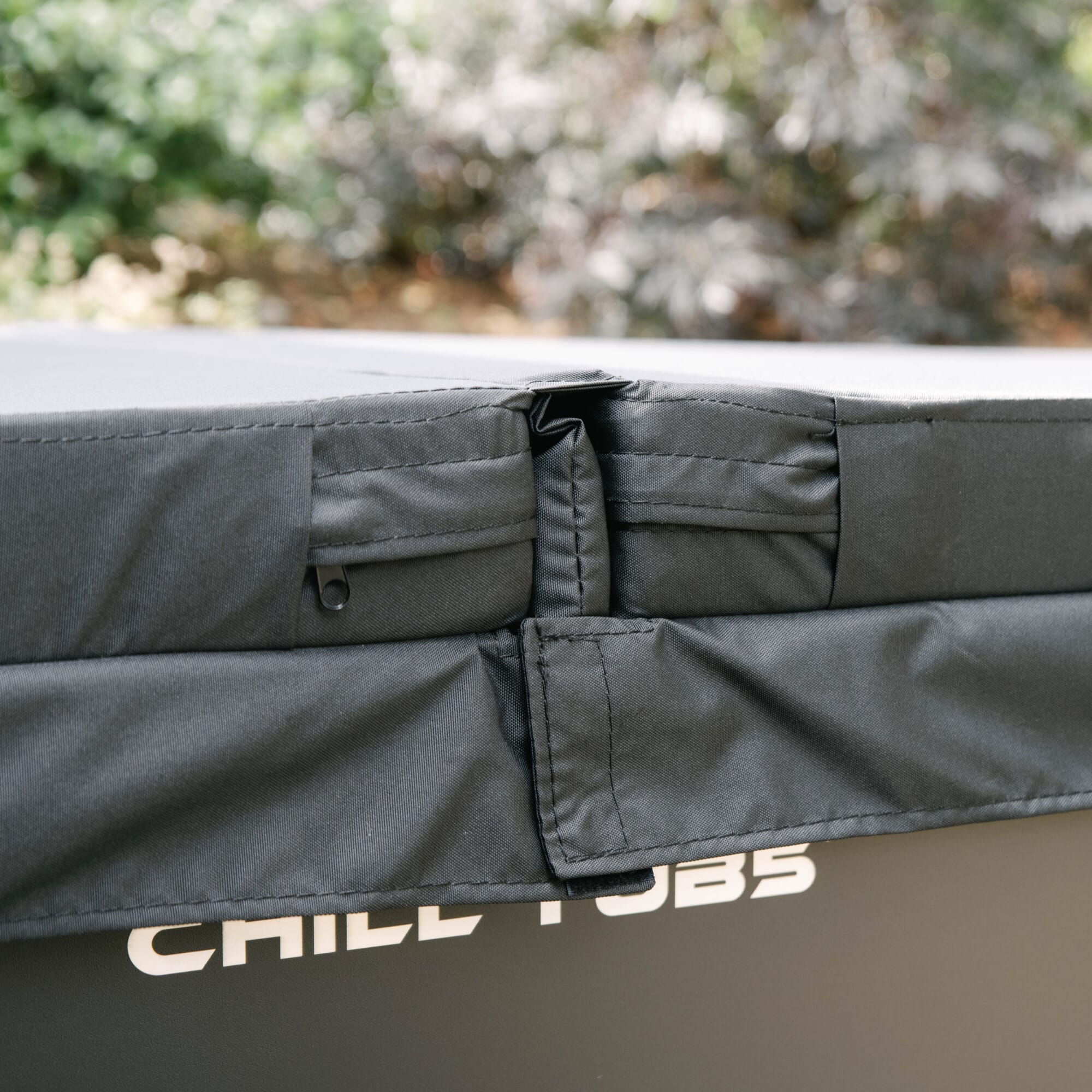 Insulated Cover
Our Chill Tubs ice bath will come with a thick, insulated cover as standard.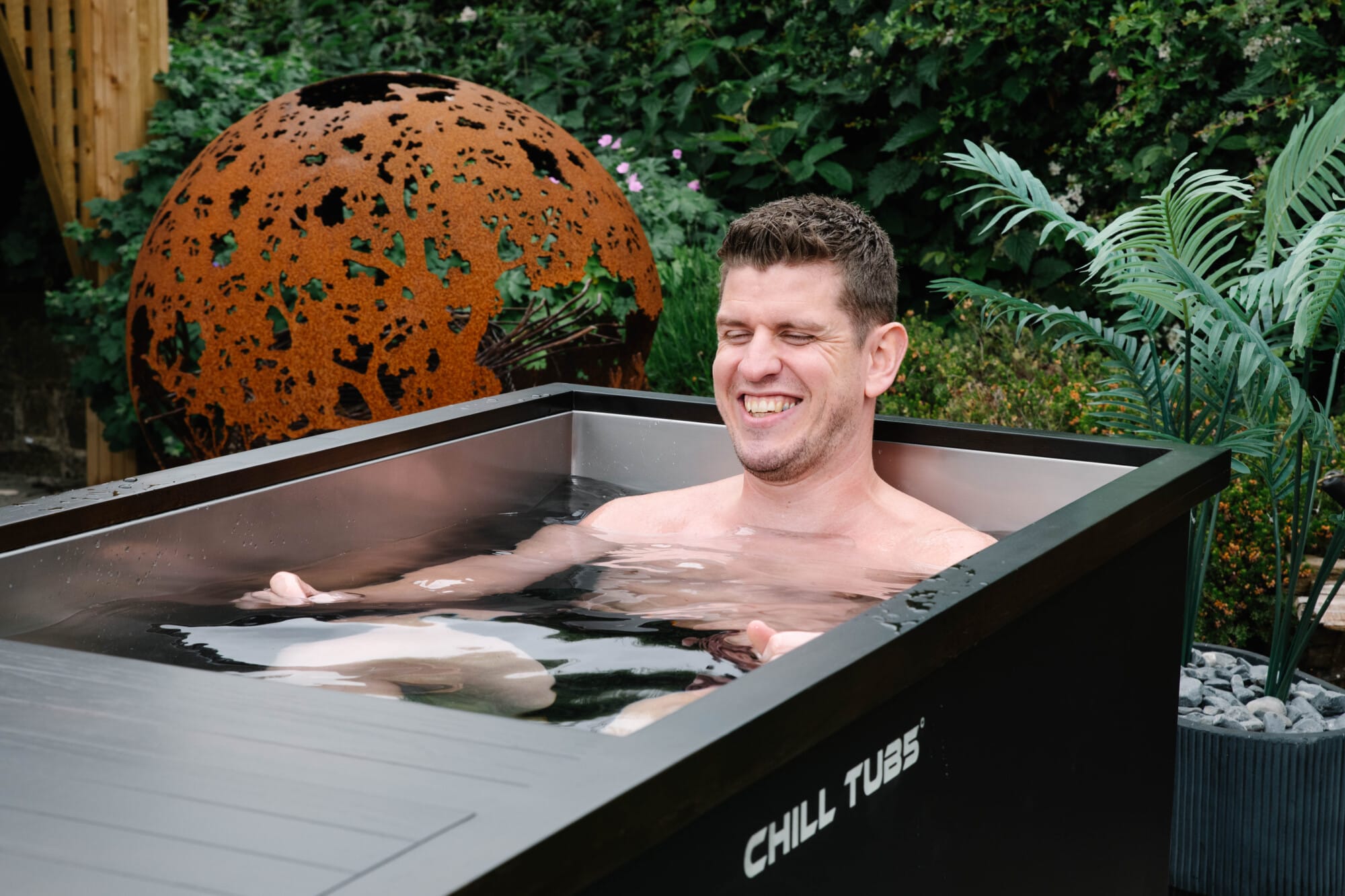 Health benefits of cold water immersion
For the average person, ice baths can be an effective way to reduce inflammation and soreness, particularly after a long day of physical work or a strenuous workout. Cold water immersion has been shown to improve blood flow and reduce swelling, which can alleviate pain and promote healing in individuals with conditions such as arthritis or chronic pain.
In addition to reducing inflammation and soreness, ice baths have also been shown to enhance overall well-being by promoting relaxation and reducing stress. The cold temperature of the water can trigger the release of endorphins, which are natural painkillers that can also induce feelings of euphoria and relaxation. This can help individuals manage stress and improve their mood, which can have positive effects on their overall health and well-being.
Moreover, ice baths can also improve circulation and promote the immune system's function. When the body is exposed to cold water, it triggers a process called vasoconstriction, which can improve blood flow and help to flush out toxins from the body. This can help to boost the immune system and promote overall health and wellness.
Athletes and fitness enthusiasts can also benefit from using an ice bath by using them as a recovery tool after intense physical activity. The process involves immersing the body in cold water (usually between 50 and 59 degrees Fahrenheit or 10-15℃ ) for 10-20 minutes. Although the thought of sitting in a tub of ice-cold water may seem daunting, research suggests that it can significantly enhance recovery by reducing inflammation, muscle soreness, and fatigue.
For more information on the many benefits associated with cold water immersion, check out our blog by clicking HERE.
SPECIFICATIONS
Dimensions
73cm (W) x 180cm (L) x 75cm (D)
Internal Dimensions
64cm (W) 115cm (L) 68cm (D)
Temperature Settings
As low as 3℃
Interior
304 stainless steel
Electrical Requirements
13 amp
Water Capacity
400 litres
Insulation Type
Thermal Foil Wrap
Sanitation
Ozone + filtration system
More Information
INTERESTED IN THIS PRODUCT?
WHY NOT ADD TO YOUR CART!
Get in touch with us and our expert team will be happy to help answer any questions you have
WHAT PEOPLE SAY ABOUT US
"Mike and Heather were so patient and helpful with advice on the best hot tub for my needs and the space I had in my small garden. Cannot recommend them enough. A great local family run business."
"Greatest variety of hot tubs in north wales. Well informed experienced staff always willing to help and advise without pressure. After sales service second to none."
"Excellent service from this family run business. After-sales support is fantastic from very friendly and knowledgeable staff. Well stocked showroom for all your essentials. This company offers great local service in North Wales."
"Concept Spa have been just brilliant helping us to choose a hot tub for our holiday property on Anglesey. Nothing is too much trouble and they have really gone the extra mile."
"Brilliant family company. Nothing was too much trouble for them. Our experience from initial advice to delivery and installation all first class. Highly recommend Concept Spa for anyone thinking of purchasing a hot tub."
"I can not recommend this company highly enough! Jack's customer service, communication, advice, delivery and the hot tub itself were all outstanding. Thank you 🙏🏼"
"Amazing company and great service. The whole process is so easy and simple and nothing is too much trouble. Excellent value for money too and love my hot tub. Highly recommended."
"Had our fabulous hot tub delivered this week and would like to thank Heather, Mike, Bobbie and the team for everything. Excellent, friendly service since our first visit, a fantastic family run business."
"Concept Spa have been a dream to work with! Excellent customer service and after care. Their staff are knowledgeable, friendly and eager to please. Thank you Concept Spa!"
"Great Company to work with, amazing customer service. Genuine Family run business that cares about the products they sell and their customers."