TYLÖ T825H Infrared Sauna
In Stock
Finance available. Deposits from just £200.
OVERVIEW
Dimensions: 107.8(D) x 163.3(W) x 193.8(H)cm
Discover the pinnacle of relaxation with Sweden's Tylö Infrared Sauna T-825. This spacious haven, accommodating 3 people, merges elegance with modern features for a rejuvenating experience. Enjoy safety and comfort with its low EMR levels and be captivated by the ambient light filtering through the all-glass front wall.
Ease into a world of serenity with intuitive touchscreen controls offering WiFi compatibility, and voice commands while the RGBW light control and colour therapy engulf you in a soothing embrace. Your sensory journey is complemented by a built-in Bluetooth music system, harmonizing your relaxation routine with your favourite melodies. Choose between black or grey back panels.
Indoor Saunas
Indoor/ Outdoor
CALCULATE FINANCE
ADD FINANCE
Please Note: finance calculations are estimated, we will contact you after your purchase to finalise pricing.
Infrared Heated
Multi Coloured LED lighting
Bluetooth Music
Touch Screen Controls
Wifi & Mobile App
Manufactured In Sweden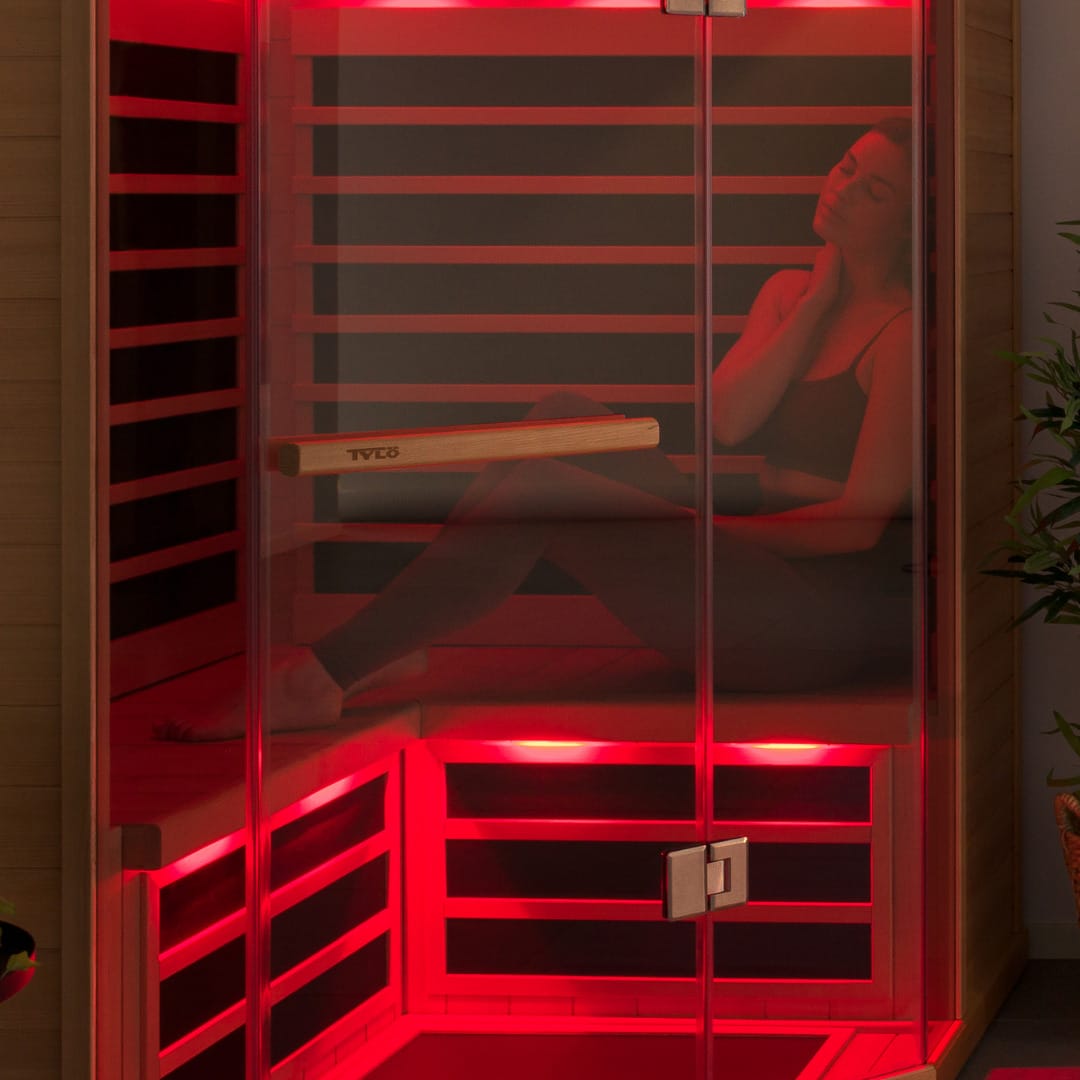 Lighting
Once inside our Tylö infrared sauna, transcend the boundaries of ordinary relaxation with the multifaceted RGBW light control accompanied by a dimmer feature. Engage in a transformative journey as you bask under the therapeutic hues of colour light therapy, a chromatic sanctuary that gently kisses your skin and harmonises with your inner tranquillity.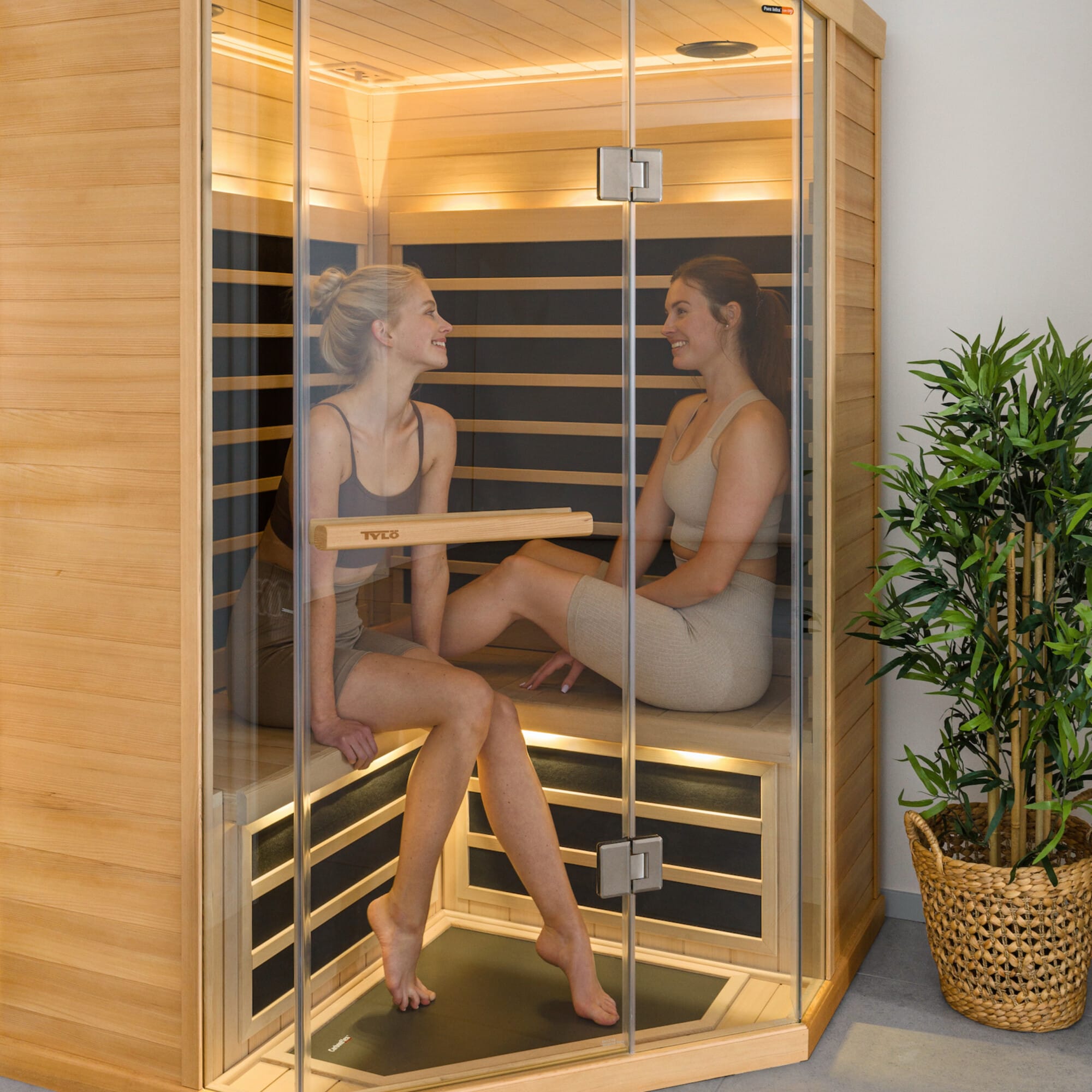 Why Infrared?
An infrared sauna uses light waves to create heat, directly warming your body instead of the surrounding air; causing you to sweat at a lower temperature while the air around you remains comfortable. This differs from a regular sauna, which heats the air first to then warm your body.
The Tylö T-825 isn't just a sauna; it's an adventure in well-being, using pioneering infrared technology to transform your relaxation experience. With the infrared mechanism at its core, this Swedish innovation penetrates deep into your skin, facilitating better blood circulation, easing muscle tension, and encouraging a healthy, radiant glow. Unlike traditional saunas, our Tylö infrared saunas heat up in mere moments for a quick yet revitalising retreat into tranquillity and rejuvenation right at your home. With the Tylo T-825, you're not just stepping into a sauna; you're embracing a healthier, more radiant version of yourself, one session at a time. Plus, energy-efficient infrared technology also ensures a more cost-effective way to enhance your well-being.
Stunning Design & Low EMR Levels
Step inside and be enveloped by the warm embrace of low EMR levels that cater to your utmost safety and comfort. The first thing you'll notice is the expansive all-glass front wall, a canvas inviting light and tranquillity into your daily relaxation routine. This innovative structure not only elevates your sauna sessions but seamlessly integrates with modern interiors, exuding an aura of sleek elegance that beckons you to enter.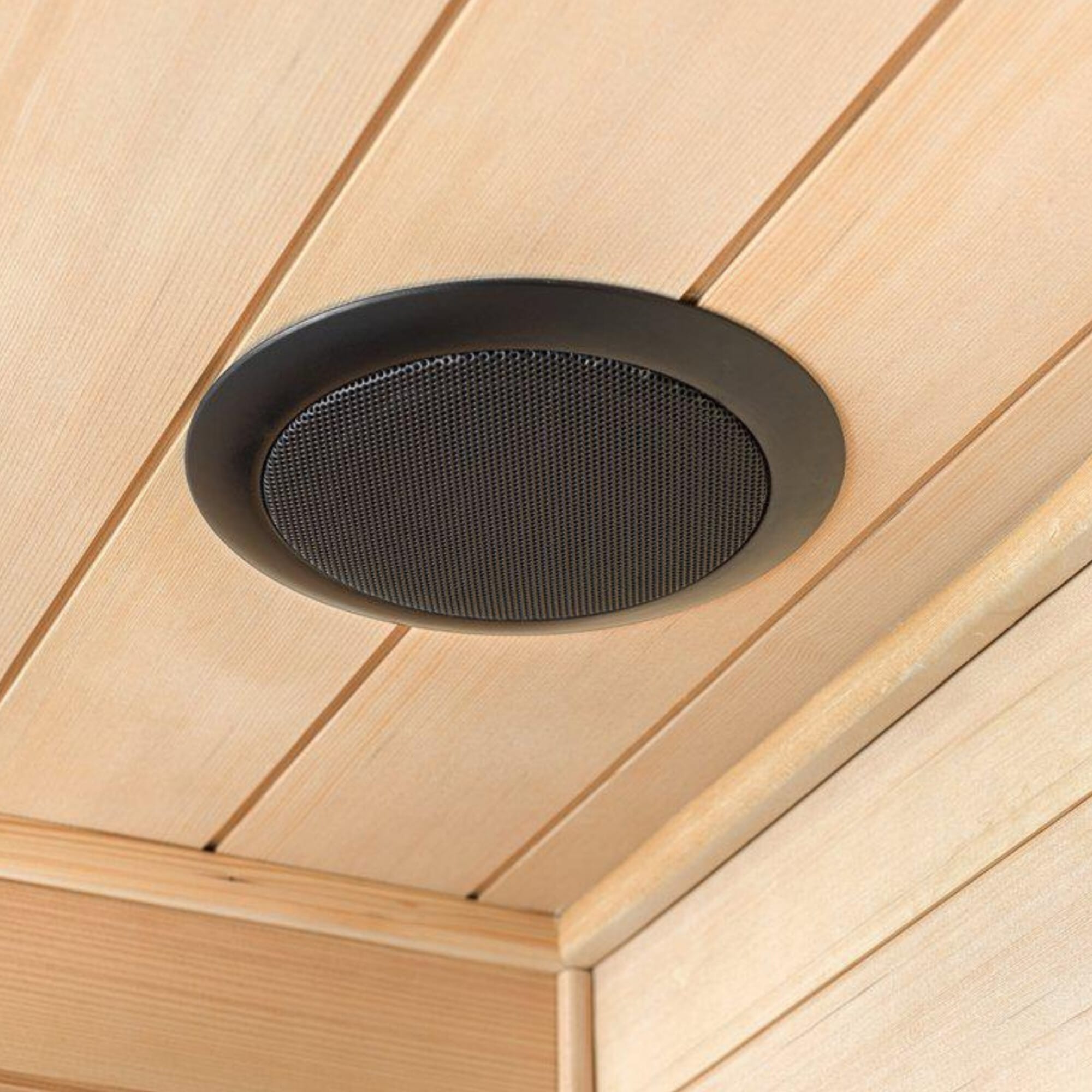 Bluetooth Music
The integrated high-end Bluetooth music system transforms your sauna session into a symphonic embrace, enveloping you in a cocoon of your favourite sounds.
Smart Intuitive Touch Screen Controls
Lean back with your favourite playlist, relax to your latest audiobook story, or change ceiling colours with just a touch.
• Wi-Fi capability
• Mobile app available
• Intuitive display (time/temp/lighting/system status).
• 60-minute timer.
• Built-in RGBW light control with Dimmer.
• Built-in Bluetooth audio.
• Voice control compliant with Alexa, Google and Siri.
Simple and Easy To Assemble
Setting up a Tylo sauna is a breeze; you won't even need tools! Just place the wall panels onto the base, add the ceiling panel, and you're good to go. It comes with ready-made wall panels, benches, and a floor, all crafted from quality clear Hemlock, ensuring unparalleled quality.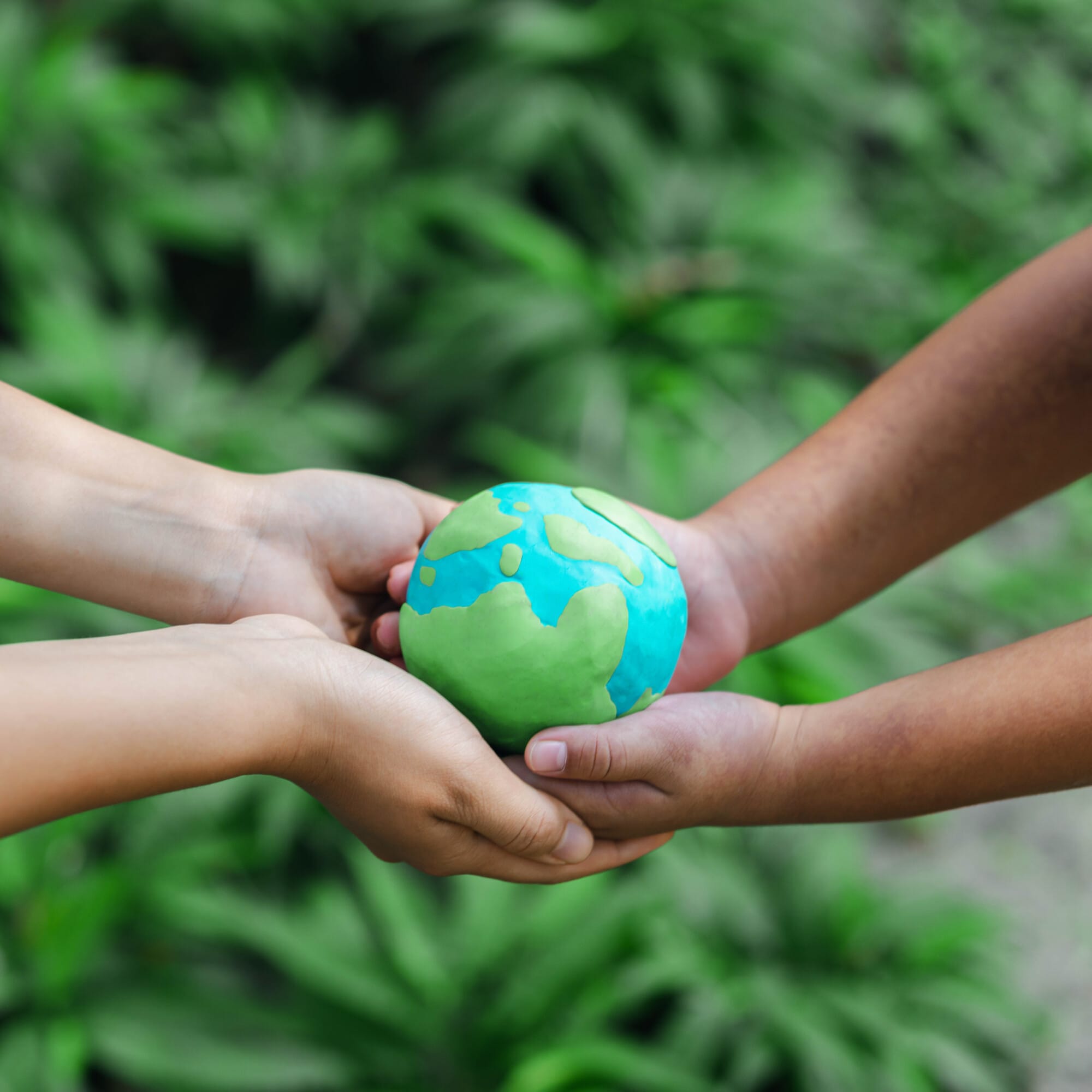 Planet Friendly
Infrared technology uses as little or less electricity than many other common household appliances.
Multi-Use Door Handle
Handle that doubles as a towel rack on the outside and a tablet holder on the inside.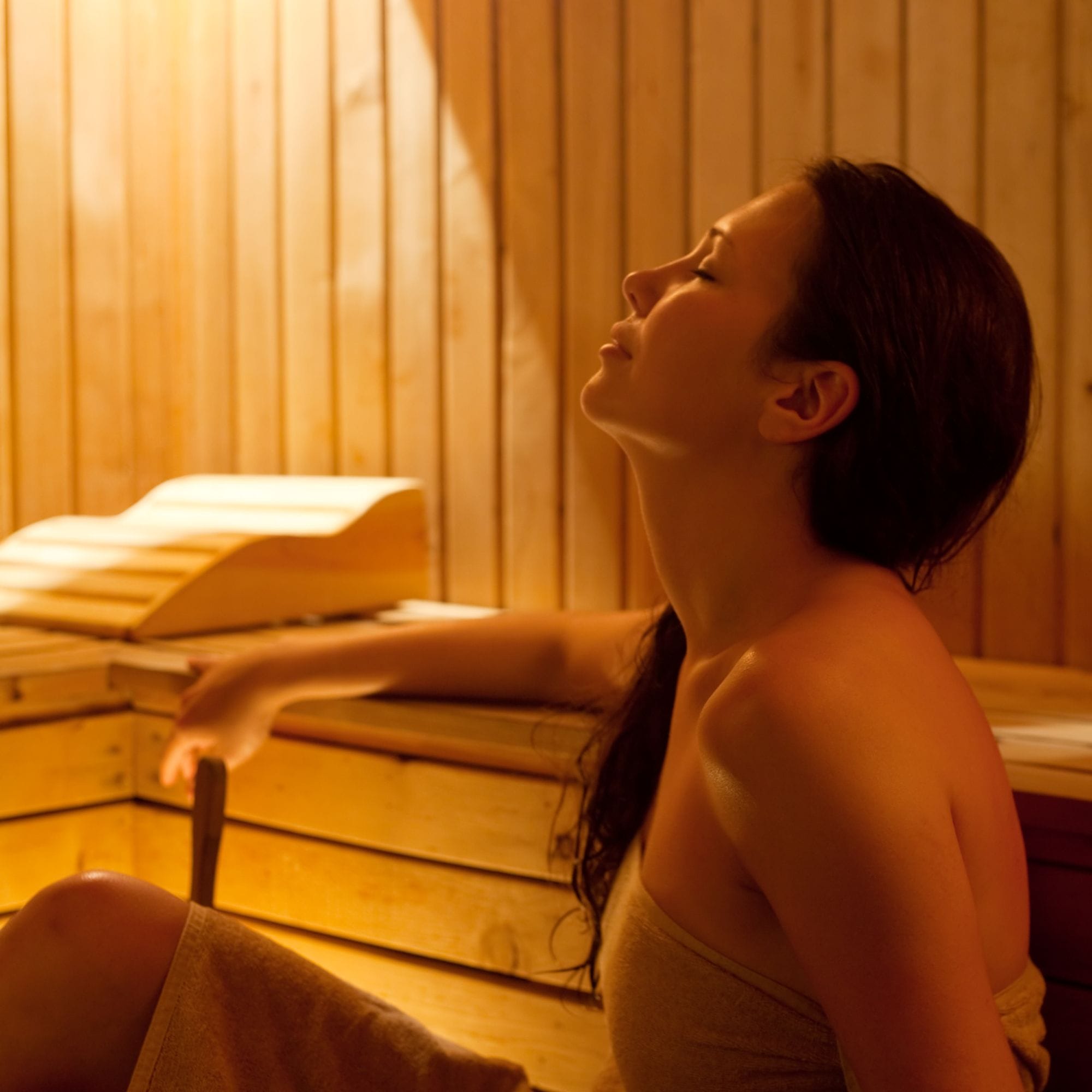 The Remarkable Benefits of Infrared Sauna Use
The infrared sauna stands apart from its traditional counterparts, using light to produce heat that directly warms the body, bypassing the need to first heat the surrounding air. This unique mechanism delivers a suite of benefits:
Comfort at Lower Temperatures: Infrared saunas provide the feel-good reactions typically linked to moderate exercise – such as vigorous sweating and an elevated heart rate – but at a more comfortable, lower temperature. This makes it an appealing option for those who find regular saunas too intense.
Potential Health Benefits: While more comprehensive research is underway, preliminary studies have pointed to the benefits of infrared saunas in addressing a range of health challenges, including high blood pressure, heart failure, dementia, Alzheimer's disease, type 2 diabetes, and arthritis. Moreover, some of these findings were consistent with those of regular sauna studies.
Pain and Fatigue Relief: Heat therapy, a time-honored approach to well-being, finds its modern counterpart in infrared saunas. Research has suggested that they can alleviate muscle soreness post-exercise and provide temporary relief from symptoms of rheumatoid arthritis such as pain and fatigue.
Heart Health: The soothing warmth of infrared saunas may promote heart health. Notably, "Waon therapy," a warm therapy variant, has been linked to a decrease in cardiac events among those with chronic heart failure. The warmth appears to ease blood flow from the heart, nourishing other organs.
Enhanced Mood and Energy: For those grappling with persistent fatigue, infrared saunas might hold the answer. A study has indicated potential in reducing feelings of fatigue and alleviating negative moods, particularly among those with chronic fatigue syndrome.
Safety Considerations: Infrared saunas, while generally safe, do significantly raise body temperature. However, due to the lower ambient air temperature in infrared saunas compared to traditional ones, risks like dehydration and overheating are somewhat mitigated. Still, individuals with specific health concerns, including high blood pressure, chronic illnesses, or those who are pregnant, should consult with healthcare professionals prior to sauna use. Alcohol consumption or drug use is also advised against before entering a sauna.
Source: Mayo Clinic and online research articles (Mero 2015, Oosterveld 2009, Kihara 2009, Tei 2016, Soejima 2015, Hannuksela 2001).
SPECIFICATIONS
Dimensions
107.8(D) x 163.3(W) x 193.8(H)cm
Electrical Requirements
13amp, plug and play (U.K. adapter plug socket not included)
Timer
Up to 60 minute timer
Sauna Ventilation Valve
✔️
LED Lighting
Full RGB dimmable LED lighting
Suitable For Commercial Use
✔️
Assembly Difficulty Level
Easy
More Information
INTERESTED IN THIS PRODUCT?
WHY NOT ADD TO YOUR CART!
Get in touch with us and our expert team will be happy to help answer any questions you have
WHAT PEOPLE SAY ABOUT US
"Mike and Heather were so patient and helpful with advice on the best hot tub for my needs and the space I had in my small garden. Cannot recommend them enough. A great local family run business."
"Greatest variety of hot tubs in north wales. Well informed experienced staff always willing to help and advise without pressure. After sales service second to none."
"Excellent service from this family run business. After-sales support is fantastic from very friendly and knowledgeable staff. Well stocked showroom for all your essentials. This company offers great local service in North Wales."
"Concept Spa have been just brilliant helping us to choose a hot tub for our holiday property on Anglesey. Nothing is too much trouble and they have really gone the extra mile."
"Brilliant family company. Nothing was too much trouble for them. Our experience from initial advice to delivery and installation all first class. Highly recommend Concept Spa for anyone thinking of purchasing a hot tub."
"I can not recommend this company highly enough! Jack's customer service, communication, advice, delivery and the hot tub itself were all outstanding. Thank you 🙏🏼"
"Amazing company and great service. The whole process is so easy and simple and nothing is too much trouble. Excellent value for money too and love my hot tub. Highly recommended."
"Had our fabulous hot tub delivered this week and would like to thank Heather, Mike, Bobbie and the team for everything. Excellent, friendly service since our first visit, a fantastic family run business."
"Concept Spa have been a dream to work with! Excellent customer service and after care. Their staff are knowledgeable, friendly and eager to please. Thank you Concept Spa!"
"Great Company to work with, amazing customer service. Genuine Family run business that cares about the products they sell and their customers."