Mr. Silence 11kw
In Stock
Making your hot tub even more efficient.
OVERVIEW
Dimensions: 43 x 89 x 65.7cm
Introducing the Mr. Silence 11kw air source heat pump from Aquark, it's the perfect way to reduce your hot tubs running costs. Designed with built-in inverter technology for improved efficiency, you can be assured that this product is one of the most efficient heat pumps on the market.
The Mr.Silence 11kw air source heat pump also features Wifi capabilities, allowing you to easily control the temperature of your hot tub from anywhere in the world. With a COP rating of 10.4, you can be confident that you're using an energy-efficient solution that saves you money while helping the environment.
Upgrade your hot tub experience with the Mr.Silence 11kw air source heat pump, and enjoy the peace of mind that comes with knowing that your hot tub is now even more efficient.
Titanium heat exchanger
Average COP: 10.4
Works all year round down to -10℃
Wifi included
Save up to 65% off your hot tubs running costs*
We're excited to introduce our 11kw Mr. Silence Aquark Inverter heat pump! Saving you up to 65% off your hot tub's running costs*. Not only can they save you money, but our heat pumps can also heat up your hot tubs water much faster than the 2-3kw heaters that come as standard in most hot tubs*.
Plus, in the warmer months, you can even use the air source heat pump to cool the water down if you so wish.
*Based on independent testing and analysis. Actual savings may vary depending on individual usage and environmental factors.
How do air source heat pumps work?
The principle behind a heat pump is essentially the opposite of an air-conditioner. While an air-conditioner produces cool air, a heat pump emits warmth. Let's break it down.
🌱 First, a fan draws in the surrounding air, which passes over the evaporator
🌱 The heat from the air is then transferred to a circuit containing eco-friendly gas.
🌱 Next, the gas is heated to a high temperature via a built-in compressor. In the heat exchanger, the gas transfers its heat to the pool water.
🌱 Finally, the gas returns to its liquid state and flows back to the evaporator to repeat the process.
This process is not only eco-friendly, but it's also incredibly efficient, meaning you get to enjoy a relaxing soak while saving money on your energy bills.
Our air source heat pumps are specifically designed for hot tubs, so you can rest assured that they are of the highest quality and perfectly suited for the task at hand. We take pride in providing only the best heat pumps, which are designed to be durable, reliable, and long-lasting.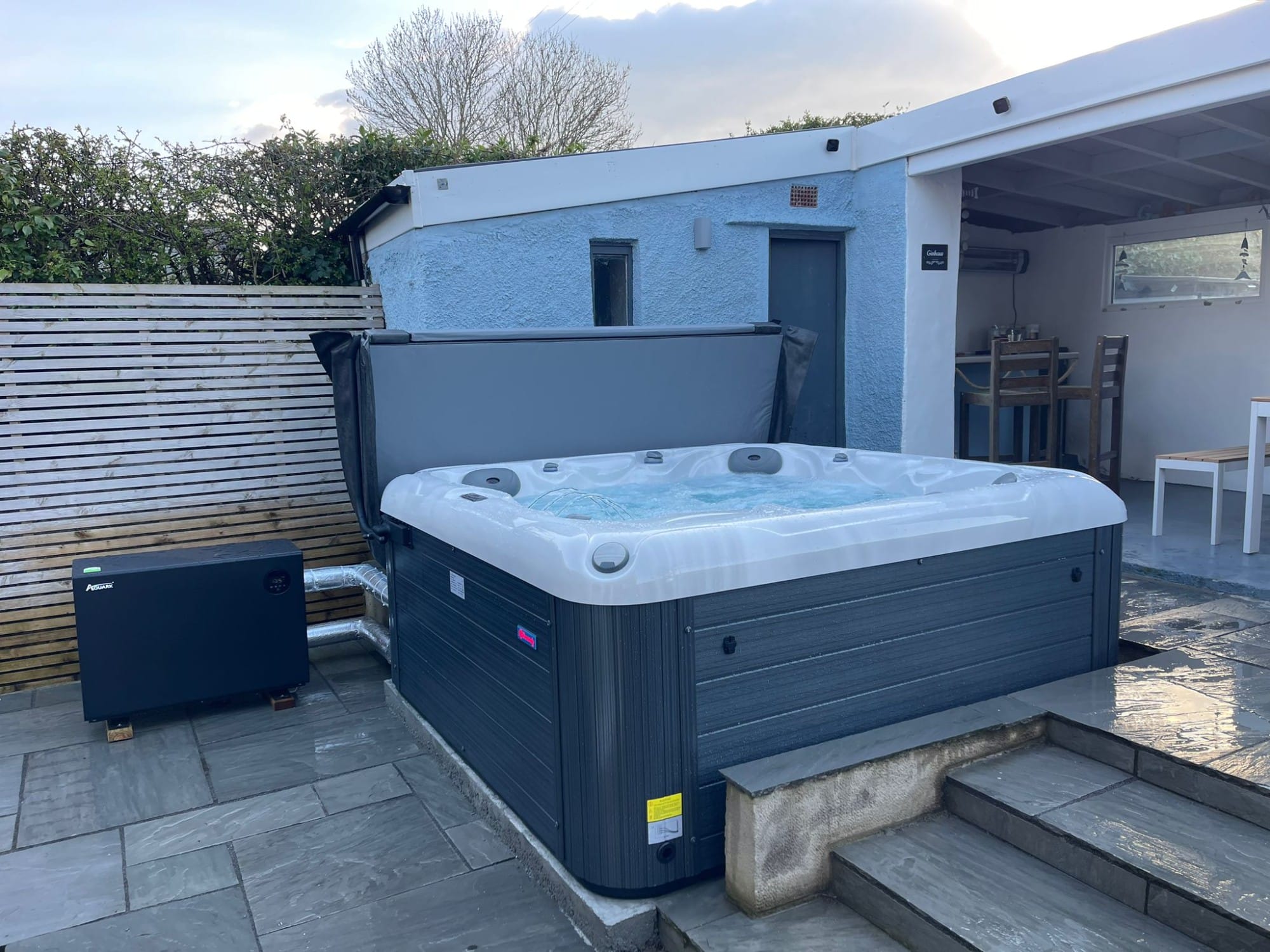 Installation Requirments
We believe in providing a hassle-free experience for our customers, which is why we offer professional installation, ongoing maintenance and support to ensure that your air source heat pump always runs smoothly.
It's important to note that the heat pump must be placed on a solid and level surface capable of supporting up to 60kg. We typically recommend a 5-inch thick concrete slab measuring at least 66 x 43cm, but any hard and level surface will suffice.
The installation price covers all necessary fittings, pipework, and insulated pipe lagging, though more complex installations may incur an additional charge.
To power the heat pump, you'll need a 13amp RCD-protected waterproof socket located no more than 2 meters from the heat pump. Alternatively, you can purchase a Gecko or Balboa controller, which allows the heat pump to draw power directly from the hot tub without the need for a separate power supply. Which controller you need will depend on which type of motherboard your hot tub has, whether it is Gecko or Balboa.
Finally, it's important to keep in mind that the air source heat pump should be installed no more than 100cm away from the hot tub. With these considerations in mind, you can enjoy your hot tub knowing that your air source heat pump is installed safely and reliably.
Space needed
The heat pump itself measures 43D x 89L x 65.7H (cm)
For more information on the size of the heat pump, please refer to page 8 in the manual located in the 'More Information' section at the bottom of the page.
We advise allowing at least 50cm on every side of the air source heat pump for adequate ventilation (see image and/ or page 9 in the manual).
Works throughout the year
Our Mr. Silence 11kw air source heat pump works throughout the whole year down to temperatures as cold as -10℃ and as hot as 40℃.
Inverter Technology
Not all air source heat pumps are created equal. Heat pumps with built-in inverter technology are designed to provide superior energy efficiency, making them a smart choice for anyone looking to save money on their hot tub's operating costs.
So how do they work? Essentially, an inverter is a device that controls the speed of the compressor in your heat pump. By adjusting the compressor's speed based on the temperature of the air outside and the demand for heat inside your hot tub, an inverter can ensure that your heat pump is running at peak efficiency, using just the right amount of energy to keep your water at the perfect temperature.
This is in contrast to traditional heat pumps, which typically use fixed-speed compressors that operate at full power regardless of the actual heating demand. That means they can waste energy by constantly cycling on and off, or by running at full power when it's not needed. By contrast, an inverter heat pump can adjust its power output in real-time, delivering just the right amount of heat to your hot tub as it's needed.
The result? You get a hot tub that's always at the perfect temperature and with the added benefit of inverter technology, you'll be able to enjoy even greater savings over time, thanks to the device's ability to operate more efficiently than traditional models.
So if you're looking for a smart way to keep your hot tub running costs under control, look no further than our range of air-source heat pumps with built-in inverter technology. They're the perfect choice for anyone who wants to enjoy a relaxing soak without breaking the bank!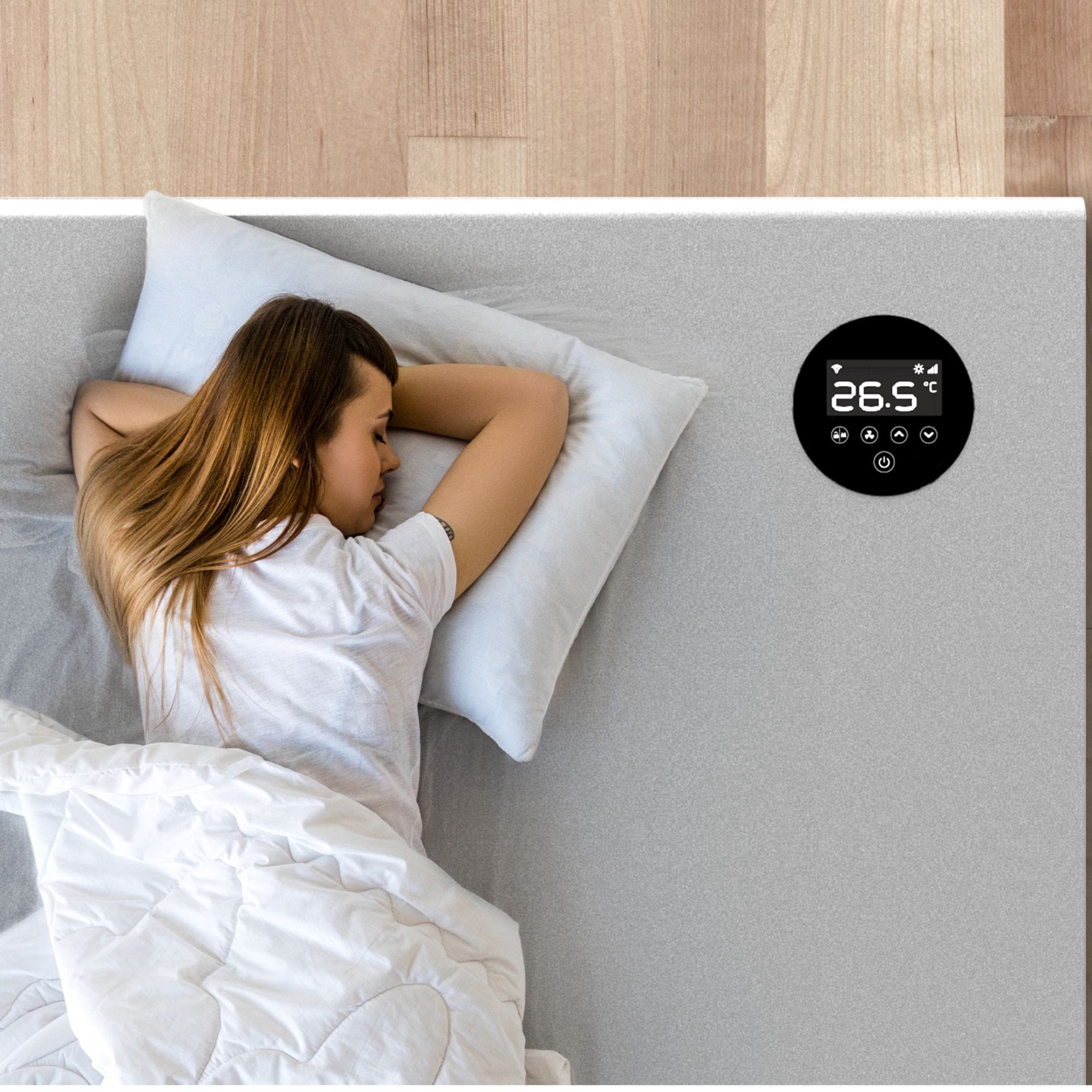 Noise Level | Inverpad
Worried that a noisy air source heat pump is going to ruin your back garden oasis? Enter Mr. Silence 11KW Inverpad® by Aquark! This revolutionary technology breaks the mould of boring design and loud operation that has plagued the hot tub heat pump industry for over 50 years.
With a sleek Pad Appearance, Stepless DC Inverter, and Noise Cancelling technology, Mr. Silence delivers extreme silence, providing you with peace of mind as you relax by the pool. In fact, the patented airstream design technology makes Mr. Silence as quiet as a fridge, measuring in at only 40dB(A).
But Mr. Silence isn't just silent; it's also smart. Thanks to the stepless DC inverter technology, Mr. Silence intelligently adjusts its speed according to the environment and water temperature, ensuring optimal efficiency and performance. Don't settle for a noisy air source heat pump – upgrade to Mr. Silence and enjoy the perfect combination of peace and performance.
Wifi
Our Mr. Silence 11kw air source heat pump comes as standard with Wifi capabilities. Meaning that you'll be able to operate the unit from anywhere in the world, provided the heat pump is within range of a Wifi router.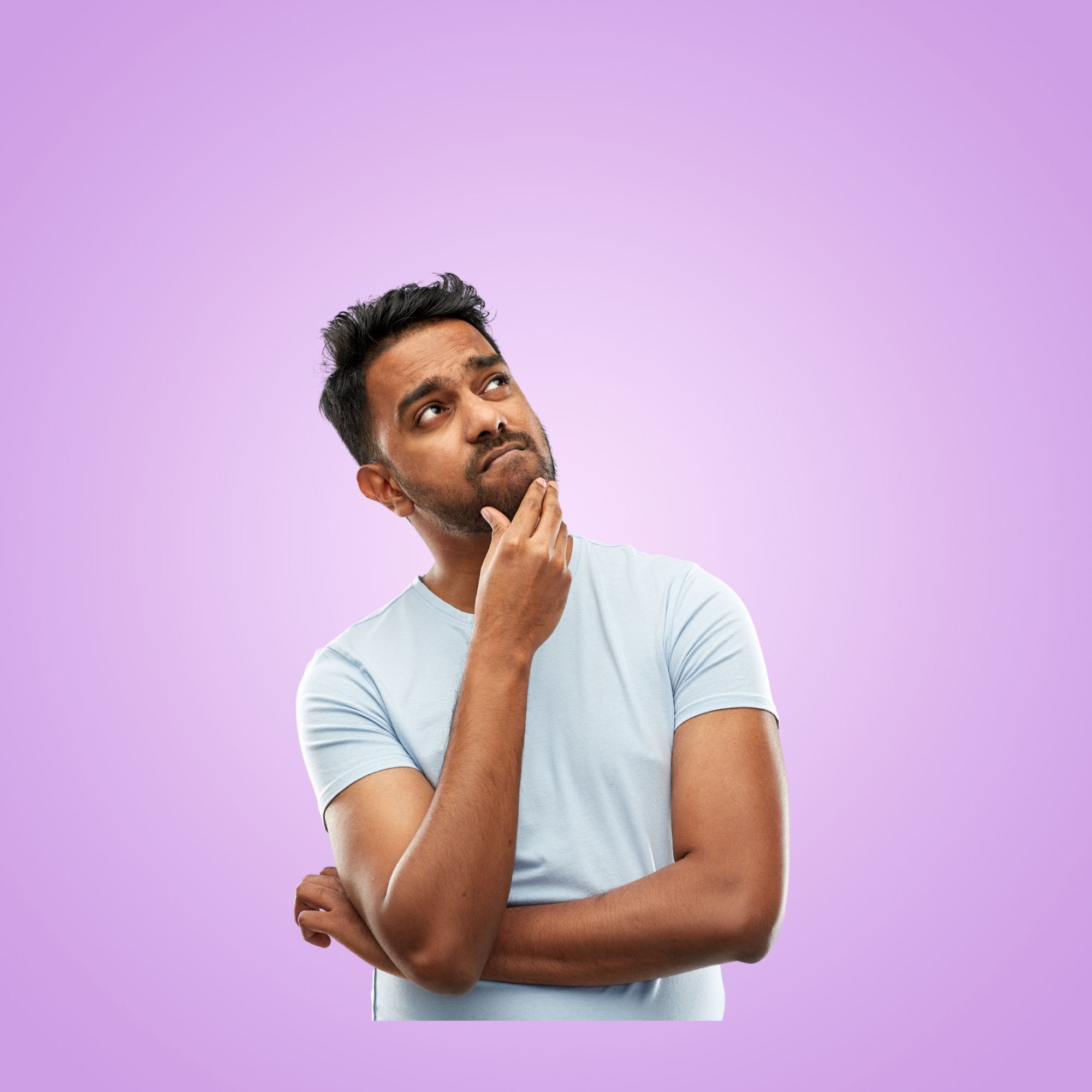 What KW air source heat pump should I buy?
If you're wondering which KW air source heat pump is right for you, we've got some recommendations. For domestic use, we typically suggest going with a 7kw to 9kw unit. However, if you're running a holiday let or have a larger hot tub, an 11kw to 12kw unit might be a better fit. If you're lucky enough to have a swim spa, you'll likely need a 17kw+ unit to keep that water nice and toasty.
It's important to note that higher KW units tend to be more efficient in colder months. So, if you live in an area with chilly winters, a higher KW unit may be the way to go. Additionally, a higher KW unit will be able to heat up your hot tub or swim spa more quickly, so keep that in mind when making your decision.
Warranty
Warranty Includes:
🏆 10 years compressor
🏆 5 years Heat Exchanger
🏆 3 Years Spare Parts
SPECIFICATIONS
Dimensions
43 x 89 x 65.7cm
Operating Temperature
-10℃ to 40℃
Electrical Requirements
13amp (or Gecko/ Balboa controller)
Output Power
11kw at 26℃/ 5kw output at 15℃
Input Power
0.14 - 1.12kw
Material
Aluminium alloy casing
EEV Technology
10 times flexibility to adjust gas and increase COP
DC Twin Rotary Mitsubishi Inverter Compressor
✔️
Twisted Titanium Heat Exchanger
✔️
More Information
INTERESTED IN THIS PRODUCT?
WHY NOT ADD TO YOUR CART!
Get in touch with us and our expert team will be happy to help answer any questions you have
WHAT PEOPLE SAY ABOUT US
"Mike and Heather were so patient and helpful with advice on the best hot tub for my needs and the space I had in my small garden. Cannot recommend them enough. A great local family run business."
"Greatest variety of hot tubs in north wales. Well informed experienced staff always willing to help and advise without pressure. After sales service second to none."
"Excellent service from this family run business. After-sales support is fantastic from very friendly and knowledgeable staff. Well stocked showroom for all your essentials. This company offers great local service in North Wales."
"Concept Spa have been just brilliant helping us to choose a hot tub for our holiday property on Anglesey. Nothing is too much trouble and they have really gone the extra mile."
"Brilliant family company. Nothing was too much trouble for them. Our experience from initial advice to delivery and installation all first class. Highly recommend Concept Spa for anyone thinking of purchasing a hot tub."
"I can not recommend this company highly enough! Jack's customer service, communication, advice, delivery and the hot tub itself were all outstanding. Thank you 🙏🏼"
"Amazing company and great service. The whole process is so easy and simple and nothing is too much trouble. Excellent value for money too and love my hot tub. Highly recommended."
"Had our fabulous hot tub delivered this week and would like to thank Heather, Mike, Bobbie and the team for everything. Excellent, friendly service since our first visit, a fantastic family run business."
"Concept Spa have been a dream to work with! Excellent customer service and after care. Their staff are knowledgeable, friendly and eager to please. Thank you Concept Spa!"
"Great Company to work with, amazing customer service. Genuine Family run business that cares about the products they sell and their customers."