Jacuzzi® PowerActive™ J-16
Ready For Order
Finance available. Reserve today with a deposit of £1,000.
OVERVIEW
Dimensions: 472 x 236 x 135cm
An ideal swim spa for both you and your family, the J-16™ PowerActive™ Swim Spa delivers a swimming experience which is powered by one 4-horsepower pump and one 3-horsepower pump through two adjustable PowerPro® AX jets. Boasting a large and uninhibited area that's perfect for swimming, exercise, and family fun. Its Airless PowerPro™ PX Swim Jets enhances swim quality. For hydrotherapy, rehabilitation, and relaxation, the 4 x therapy seats are unbeatable. The small footprint that the Jacuzzi® PowerActive™ J-16 offers makes it the perfect choice for those who want a swim spa that doesn't occupy too much space.
x 2 PowerPro AX Jets
Swim Jets
CALCULATE FINANCE
ADD FINANCE
Please Note: finance calculations are estimated, we will contact you after your purchase to finalise pricing.
LED lighting
ClearRay Active Oxygen
Airless Swim Jets
Energy Efficient
Manufactured in Canada
SmartTub®
Elite Hydromassage
Difference Between a Pool and a Swim Spa
Swim Spas and Family Time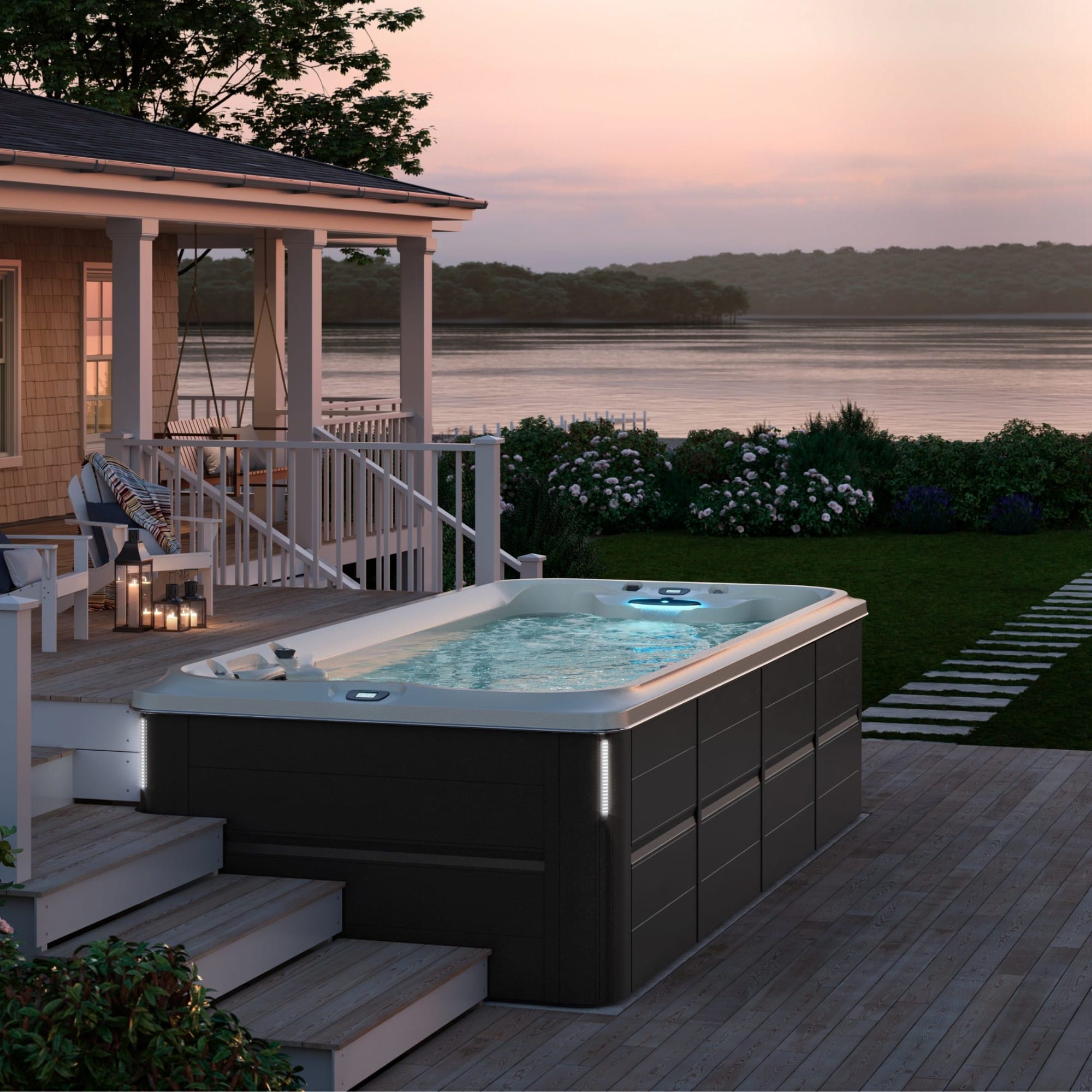 LIGHTING
Discover the ultimate swim spa experience with the Jacuzzi® PowerActive™ J-16 With its exceptional range of LED lighting, you can set the mood by cycling through a variety of colours.
💡 LED base lights
💡 Exterior cabinet lighting
💡 Backlit cascading waterfall
💡 Backlit diverters
💡 Backlit swim spa jets
💡 Illuminated Jacuzzi badge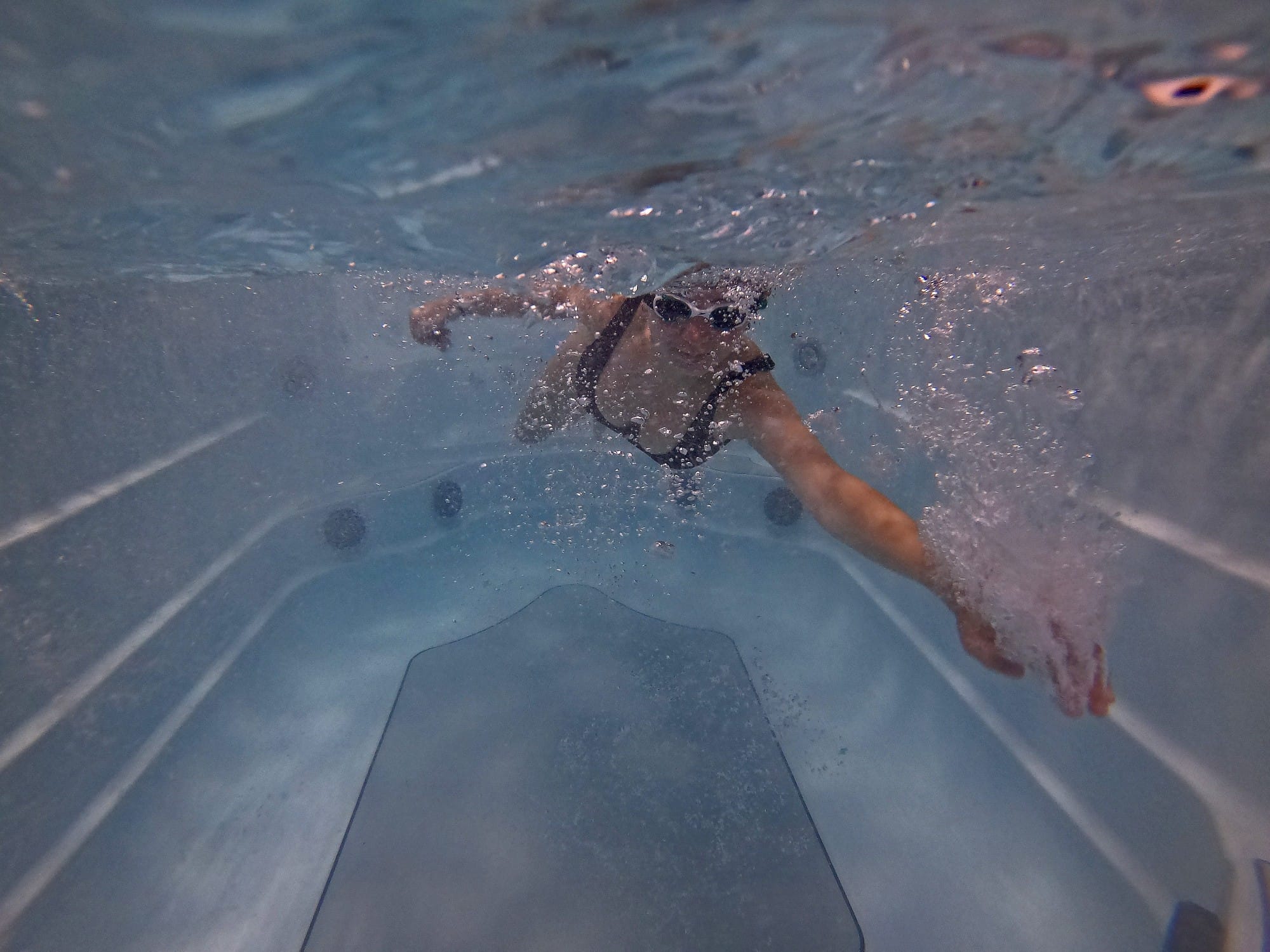 Smooth Turbulent Free Swim
Experience a smooth turbulent-free Swim with the Jacuzzi® PowerActive™ J-16.
If you're looking for a fantastic, all-around swim spa, the Jacuzzi® PowerActive™ J-16 is the perfect choice. This swim spa is designed to offer a swim which is most suited for beginner to intermediate swimmers thanks to its patented PowerPro™ PX swim Jets. Engineered to ensure water is flowing properly, this wide stream jet generates a smooth predictable current with no turbulence for an advanced swim experience.
With airless swim jets and a unique SmoothSwim™ shell design which incorporates hips in the shell that stops reflective waves and keeps you in your swim lane. Return suctions located at the opposite end of swim blades eliminate turbulence, producing a conveyor belt-like swim system for a smoother swim.
By drawing water in from multiple points and having the pumps conveniently located under the swim jets means the Jacuzzi® PowerActive™ offers a stronger current to swim against. In most swim spas, pumps are located under the seating area, meaning that long piping and more bends are needed to reach the swim jets.
Is a swimming tether needed?
The short answer is no. The Jacuzzi® PowerActive™ offers a buoyancy jet which has been designed to keep the swimmer buoyant and eliminates/ reduces the need for a tether.
Invest in, what is in our opinion one of the best swim spas on the market and experience the ultimate in aquatic fitness with the Jacuzzi® PowerActive™ swim spa. Say goodbye to the inconvenience of crowded public pools and hello to the convenience of swimming at home. With this swim spa, you'll be on your way to achieving your fitness goals in no time.
Wide Current
Due to their oval design, the airless PowerPro™ AX Swim Jets offer a wide current. This makes swimming in the Jacuzzi® PowerACTIVE™ even easier.
Therapy Seats
Relax and Unwind with the Jacuzzi® PowerActive™ swim spa.
The Jacuzzi® PowerActive™ swim spa isn't just about exercise – it's also a luxurious way to relax and unwind. With four seats that have been designed to offer an industry-leading hydromassage, utilising Jacuzzi's® famous and patented PowerPro® jets, you can be assured that The Jacuzzi® PowerActive™ swim spa will soothe your aches and pains away. It really is an experience like no other.
The diverters in the Jacuzzi® PowerActive™ allow you to customise the intensity of the therapy jets, whether you're looking for a soft or deep tissue massage. The Jacuzzi® PowerActive™ will provide you with high-end hydrotherapy right where you need it most. Adjustable headrests ensure optimal comfort.
Transform your outside space into a spa-like oasis with the Jacuzzi® PowerActive™ swim spa.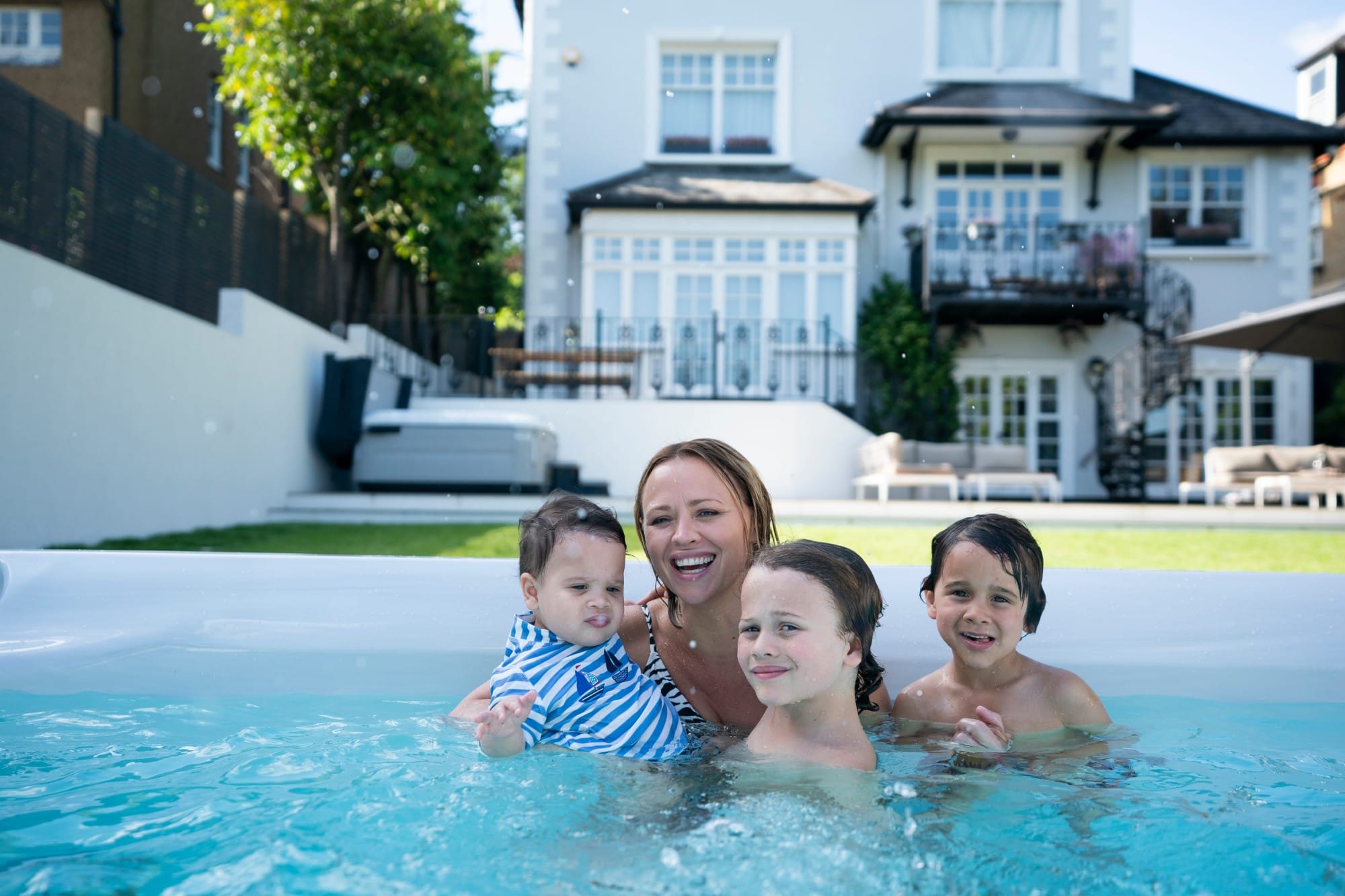 Clean Pure Water
Jacuzzi® believe in clean, pure water. This is why they have developed CLEARRAY® Active Oxygen™.
With a combination of industry-leading U.V. and Ozone technology, the Jacuzzi® PowerActive™ harnesses the power of air and light. Exclusive to Jacuzzi® products, the advanced oxidation process involves the use of injected ozone gas and a UV-C bulb. once the ozone is activated, it destroys contaminants and waterborne pathogens.
What does this mean?
Reduce swim spa chemical usage by up to 50%
Save money on maintenance products
Soak in water that contains fewer chemicals. Kinder to your skin.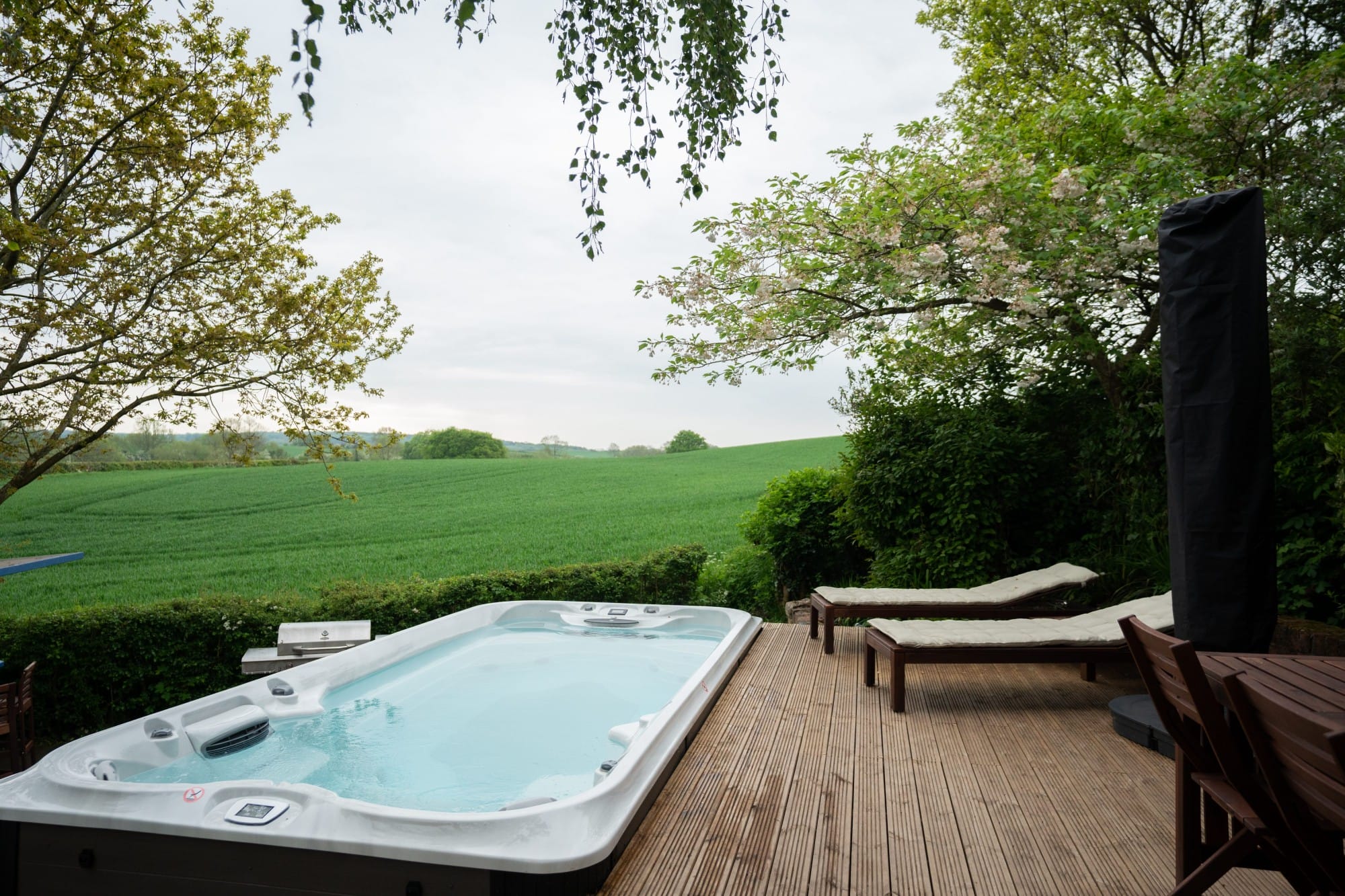 Running Costs
Many people are keen to know how much it costs to run one of our Jacuzzi® swim spas, but with every owner using theirs in a different way, it can be very difficult to give an entirely accurate, one-size-fits-all answer. However, what we can tell you is that all Jacuzzi® swim spas are put through rigorous independent testing by the California Energy Commission (CEC) who set stringent standards for how much energy a hot tub can use.
Thanks to the high-quality design which features a strong shell, foam insulation, SmartSeal™ insulation, insulated floor and fully adjustable venting our Jacuzzi® PowerActive™ exceeds these standards. Giving you the peace of mind that you are choosing one of the most energy-efficient swim spas in the world.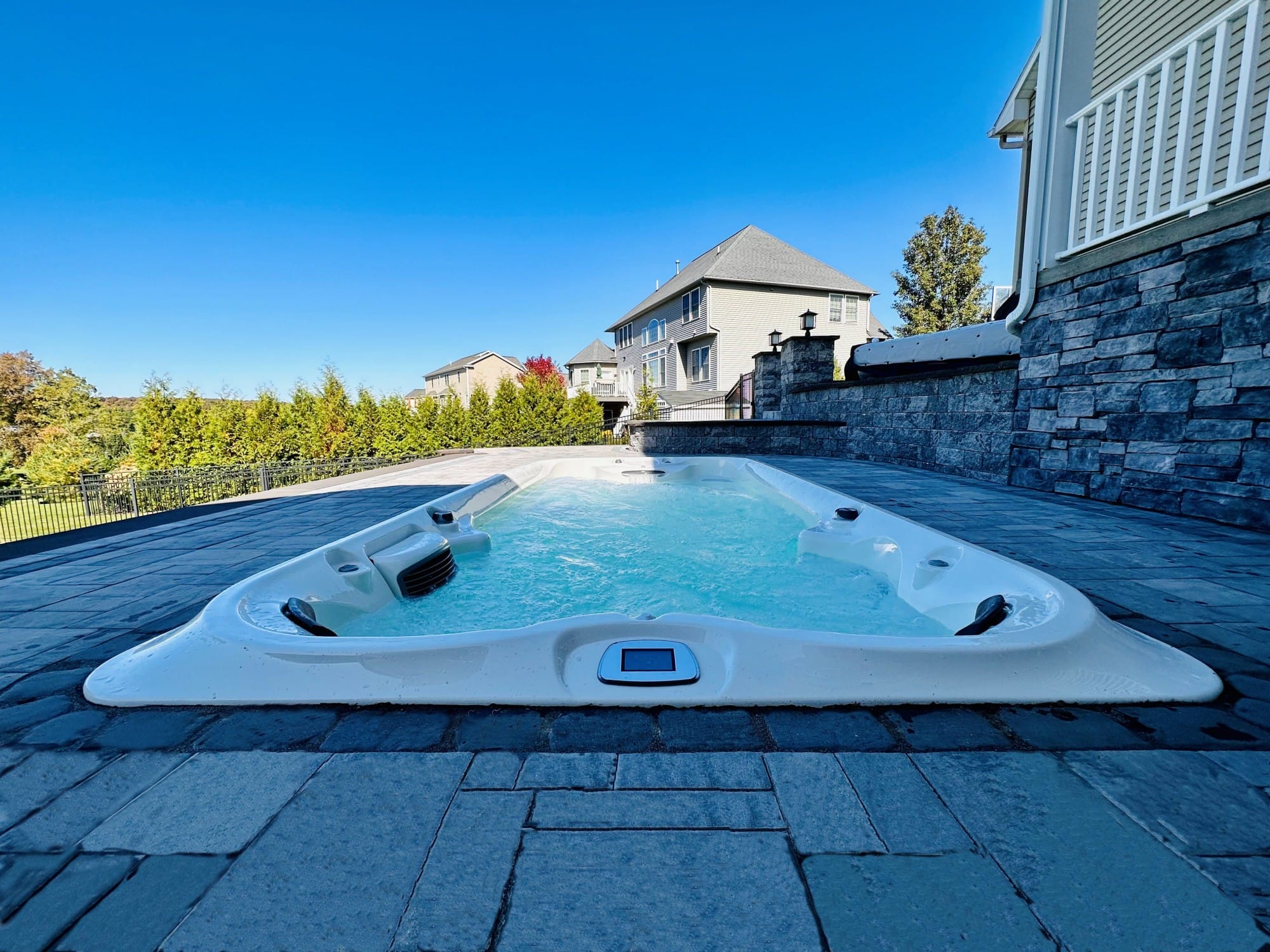 CONTROL SYSTEM
The Jacuzzi® PowerActive™ swim spa is equipped with a user-friendly, touchscreen control panels for easy and convenient operation.
Form Goggles
Did we mention that we are currently offering a pair of FORM Smart Swim Goggles worth £249 completely free with the Jacuzzi PowerActive J-16?!
FORM Smart Swim Goggles coach you in real-time. Helping you to improve your technique, get faster, and nail race day.
Benefits of FORM Smart Swim Goggles:
🥽 Improve your technique with real-time data.
Identify when your technique is dropping off and adjust your form using pace, stroke rate, and distance per stroke data while you swim.
🥽 Get faster with guided workouts
🥽 Pace perfectly and nail race day!
Resistance Training
Discover the versatility of the Jacuzzi® PowerActive™ swim spa.
The Jacuzzi® PowerActive™ isn't just great for swimming – it's also perfect for a range of other fitness activities. Thanks to the natural buoyancy of the water, you can exercise without putting pressure on your joints or muscles. This makes it an excellent choice for anyone who suffers from aches and pains.
With the Jacuzzi® PowerActive™ we are offering the PowerTone™ kit completely free of charge with an accompanying 6-workout series.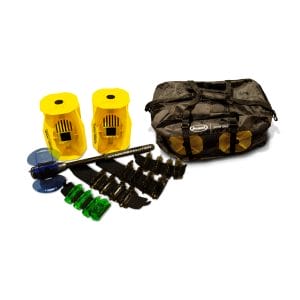 Get the above bundle, completely FREE!
Take your fitness routine to the next level with the Jacuzzi® PowerActive™.
We offer a resistance rowing kit as an optional extra, ask for details.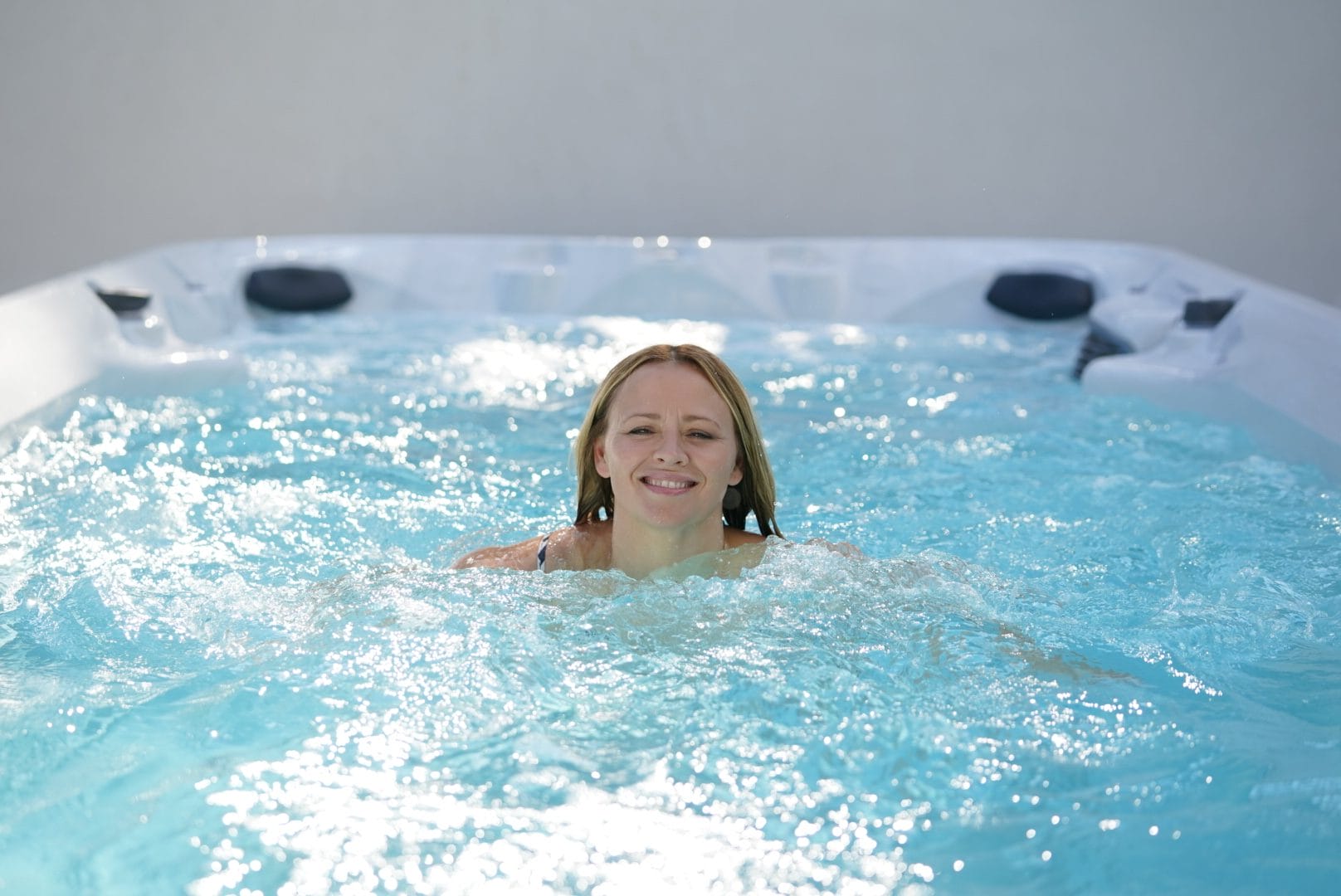 Warranty
The Jacuzzi® PowerActive™ comes with some of the best warranties in the industry.
10 years – Shell Structure
5 years – Shell Surface
3 years – Equipment and Controls
3 years – Plumbing components
5 years – Cabinet
For full warranty details, please see the warranty information located at the bottom of the page under 'More Information'.
SmartTub® (Cell 3G)
SmartTub® now comes as standard on the Jacuzzi® PowerActive™ swim spas.
What does Smart Tub do? 
• Adjust the temperature, jets, and lights
• Lock down your hot tub and prevent usage
• Set up an automated usage schedule
• Get real-time notifications and reminders
• Track energy usage reports
• Pair with Siri, Alexa, Google Assistant and wearables
• Enjoy new features updated automatically
• Automatically alerts your dealer if your hot tub needs attention
• Detect power outages, freezing, and overheating
• Optimise energy savings with industry-first Smart Heat Mode, which learns your usage and lets you control how much energy you use
Cellular
The SmartTub® System incorporates the best technologies for connected products, leveraging the fact that hot tubs are located outdoors. Directly connect to local cell towers, Jacuzzi® has partnered with major wireless carriers around the world to ensure stable networks with maximised performance without affecting your personal cellular plan.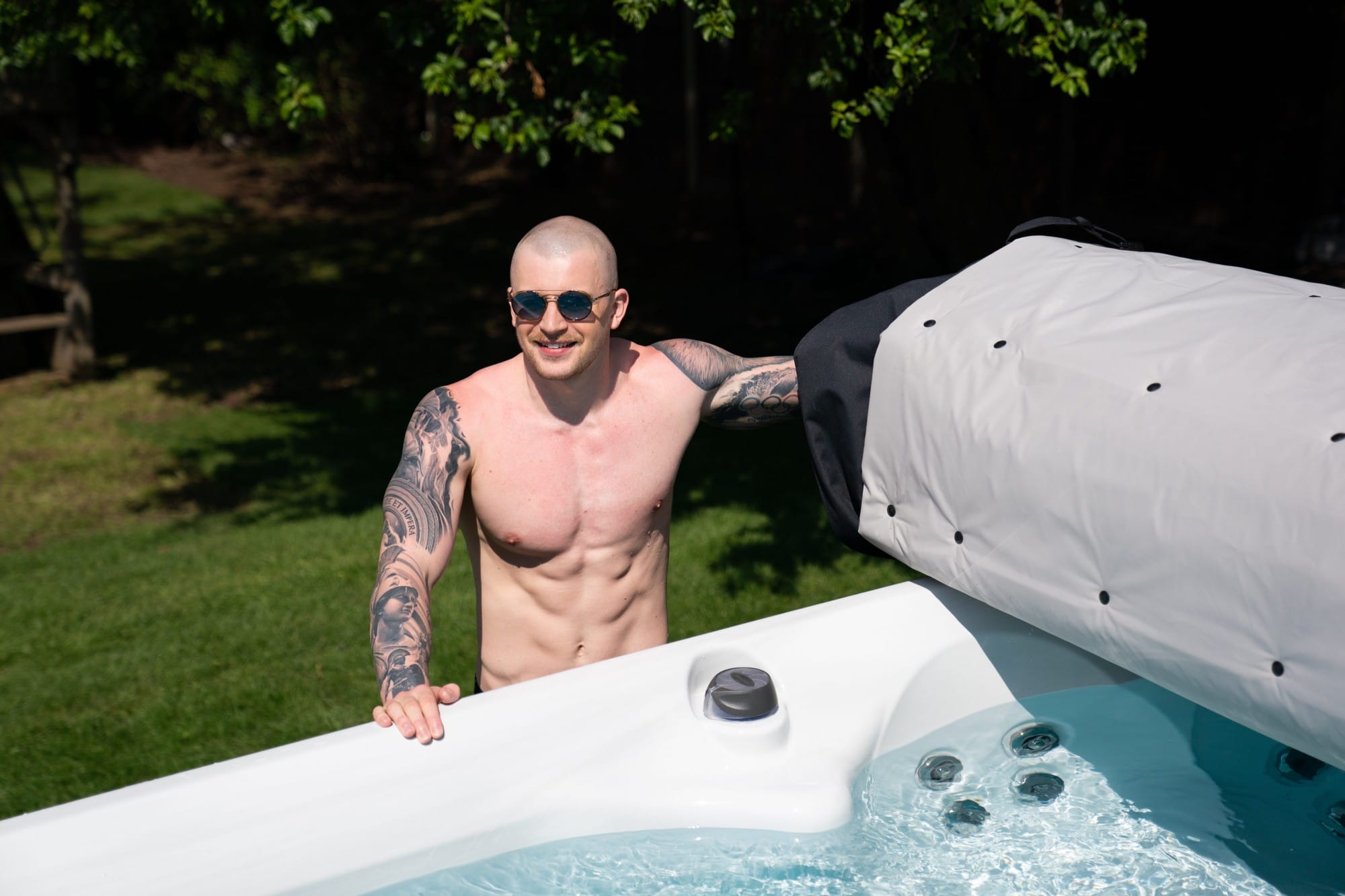 Optional Rolling Cover
The Jacuzzi® PowerActive™ swim spa will come as standard with a grey ProLast™ hardcover which is supplied free of charge. For those who are considering covering the swim spa with something such as a pergola, or for those who want an easier option, we would highly recommend upgrading to the rolling cover.
Light, energy-efficient, and easy to use, the next generation of swim spa cover creates a complete seal and can be opened by one person in less than 60 seconds.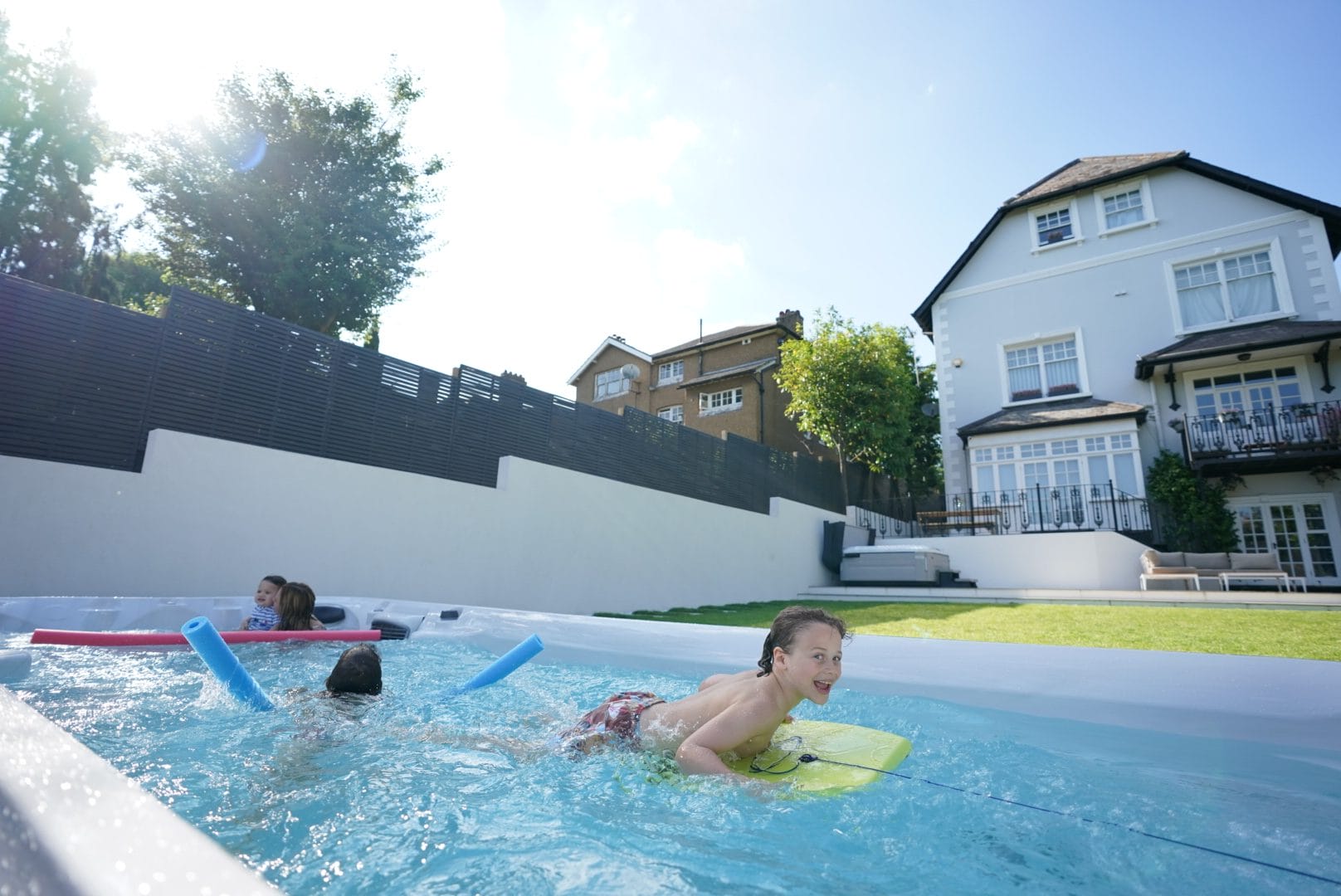 Benefits Of Owning A Swim Spa
If you're someone who's looking for a versatile and beneficial addition to your home, then look no further than the Jacuzzi® PowerActive™ swim spa! Whether you're an athlete seeking to enhance your fitness regimen, or simply seeking a relaxing way to unwind after a long day, a swim spa offers a range of health and wellness benefits. With powerful jets and adjustable water temperature, you can enjoy the therapeutic benefits of hydrotherapy in the comfort of your own garden. Swim spas are also perfect for socialising, offering enough space for your friends and family. Plus, with year-round use and low maintenance requirements, a swim spa is a wise investment in your health and happiness. So why wait? Reserve your dream swim spa today!
SPECIFICATIONS
Layout
Swimming lane with 4 x seats
Dimensions
472 x 236 x 135cm
Useable Swim Area
284cm (L)
Swim Jets
2 x PowerPro™ AX airless swim jets
Pre-Programmed Training Modes
N.A.
Pumps
1 x 4hp (2 speed pump) + 1 x 3hp (2 speed pump)
Swim Spa Type
Single Zone
Electrical Requirements
40 amp
Average Spa Volume
7,638 litres
Heater
2 x 3KW titanium heaters
Insulation
4 Tier insulation including full foam and SmartSeal™ insulation
CEC™ Approved for Optimal Energy Efficiency
✔️
Control System
Jacuzzi touch screen controls
Water Features
Backlit cascading waterfall
Water Purification
CLEARRAY® Active Oxygen™
More Information
INTERESTED IN THIS PRODUCT?
WHY NOT ADD TO YOUR CART!
Get in touch with us and our expert team will be happy to help answer any questions you have
WHAT PEOPLE SAY ABOUT US
"Mike and Heather were so patient and helpful with advice on the best hot tub for my needs and the space I had in my small garden. Cannot recommend them enough. A great local family run business."
"Greatest variety of hot tubs in north wales. Well informed experienced staff always willing to help and advise without pressure. After sales service second to none."
"Excellent service from this family run business. After-sales support is fantastic from very friendly and knowledgeable staff. Well stocked showroom for all your essentials. This company offers great local service in North Wales."
"Concept Spa have been just brilliant helping us to choose a hot tub for our holiday property on Anglesey. Nothing is too much trouble and they have really gone the extra mile."
"Brilliant family company. Nothing was too much trouble for them. Our experience from initial advice to delivery and installation all first class. Highly recommend Concept Spa for anyone thinking of purchasing a hot tub."
"I can not recommend this company highly enough! Jack's customer service, communication, advice, delivery and the hot tub itself were all outstanding. Thank you 🙏🏼"
"Amazing company and great service. The whole process is so easy and simple and nothing is too much trouble. Excellent value for money too and love my hot tub. Highly recommended."
"Had our fabulous hot tub delivered this week and would like to thank Heather, Mike, Bobbie and the team for everything. Excellent, friendly service since our first visit, a fantastic family run business."
"Concept Spa have been a dream to work with! Excellent customer service and after care. Their staff are knowledgeable, friendly and eager to please. Thank you Concept Spa!"
"Great Company to work with, amazing customer service. Genuine Family run business that cares about the products they sell and their customers."