Rexener Aurora
Ready For Order
OVERVIEW
Dimensions: 189 x 189 x 100cm (of hot tub)
The Rexener Aurora is a diesel-fuelled hot tub that's manufactured in Finland to the highest of standards, using Finish wood and top-quality components. Using the latest in heating technology, the Rexener Aurora is capable of heating the water from 7℃ to 37℃ in as little as 2 hours! The Rexener Aurora also includes a sand filter, U.V. sanitation and an in-line chemical feeder. Unlike the Rexener Polar, the Rexener Aurora does not have heated air jets. It's the perfect hot tub for holiday lets or someone who wants a hot tub that costs less to run than conventional all-electric models.
Diesel Fuelled
Heater Type
LED Lighting
U.V. Sanitation
Diesel Fuelled
Sand Filter
Wifi Enabled
LIGHTING
The Rexener Aurora comes with a large LED base light which offers a range of colour options.
The LED lights are operated via a remote control.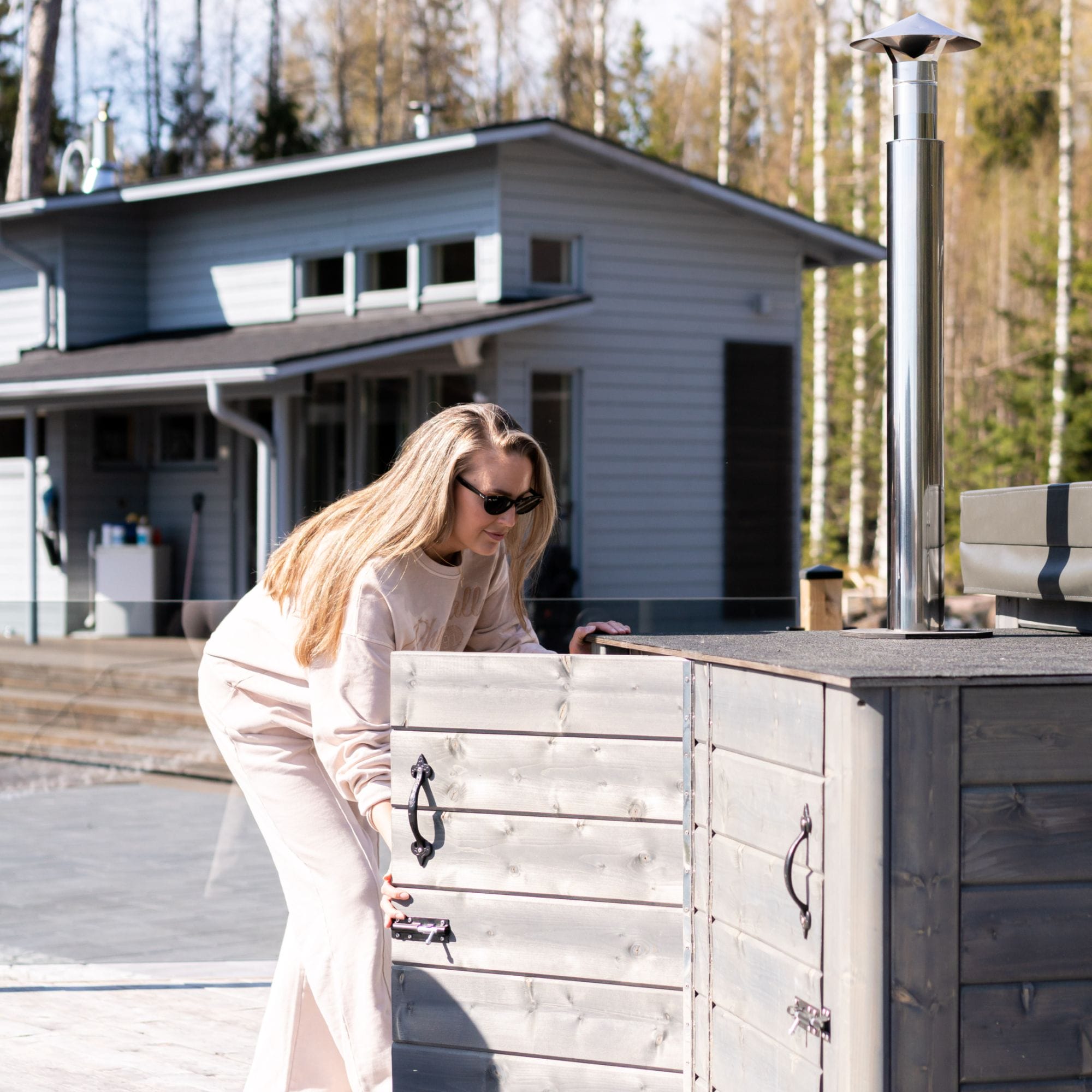 Diesel Fuelled Hot Tub
The Rexener Aurora is a diesel-fuelled hot tub that utilises the very latest in heating technology.
Can heat your hot tub water up from 7℃ – 37℃ in as little as 2 hours! 
CAN YOU SMELL THE DIESEL?
The short answer is no. Our Rexener heaters are 97% efficient, meaning that there's no smoke and the chance of you smelling any diesel is extremely unlikley.
Water Purification
The Rexener Aurora comes as standard with U.V. sanitation, this helps to keep your spa water clean, clear and the bathers safe.
SPACE
Due to the simplistic design of the Rexener Aurora, there is ample room for up to 6 people.
MANUFACTURED IN FINLAND
Manufactured in Finland, using high-quality Finnish wood, you can be assured that the Rexener Aurora is a top-quality hot tub.
Sand Filtration + In-Line Chemical Feeder
When it comes to filtration, it doesn't get much better than the Rexener Aurora. Utilising a large sand filter, this hot tub has been over-engineered for domestic use. Helping to keep the water clean for longer, perfect for holiday lets.
This hot tub also includes an in-line chemical feeder as standard.
Compliant with HSG282*
That's right, not only can the Rexener Aurora heat up in as little as 2 hours and cost you less to run than a conventional hot tub… but it's also HSG282 compliant. Making this the perfect hot tub for commercial applications.
SPECIFICATIONS
Seating Layout
Bench seating all the way around (+ 1 x entry step/ cool down seat)
Dimensions
189 x 189 x 100cm (of hot tub)
Dimensions of Equipment Cabinet
152 x 72cm, front edge height 96cm, rear edge height 99cm
Electrical Requirements
16 amp
Heater
Rexener bioheater (biodiesel, diesel)
Insulation
Sheets of polyurethane on the base and walls
Average Spa Volume
1300 - 1500 litres
In-Line Chemical Feeder
✔️
More Information
INTERESTED IN THIS PRODUCT?
WHY NOT ADD TO YOUR CART!
Get in touch with us and our expert team will be happy to help answer any questions you have
WHAT PEOPLE SAY ABOUT US
"Mike and Heather were so patient and helpful with advice on the best hot tub for my needs and the space I had in my small garden. Cannot recommend them enough. A great local family run business."
"Greatest variety of hot tubs in north wales. Well informed experienced staff always willing to help and advise without pressure. After sales service second to none."
"Excellent service from this family run business. After-sales support is fantastic from very friendly and knowledgeable staff. Well stocked showroom for all your essentials. This company offers great local service in North Wales."
"Concept Spa have been just brilliant helping us to choose a hot tub for our holiday property on Anglesey. Nothing is too much trouble and they have really gone the extra mile."
"Brilliant family company. Nothing was too much trouble for them. Our experience from initial advice to delivery and installation all first class. Highly recommend Concept Spa for anyone thinking of purchasing a hot tub."
"I can not recommend this company highly enough! Jack's customer service, communication, advice, delivery and the hot tub itself were all outstanding. Thank you 🙏🏼"
"Amazing company and great service. The whole process is so easy and simple and nothing is too much trouble. Excellent value for money too and love my hot tub. Highly recommended."
"Had our fabulous hot tub delivered this week and would like to thank Heather, Mike, Bobbie and the team for everything. Excellent, friendly service since our first visit, a fantastic family run business."
"Concept Spa have been a dream to work with! Excellent customer service and after care. Their staff are knowledgeable, friendly and eager to please. Thank you Concept Spa!"
"Great Company to work with, amazing customer service. Genuine Family run business that cares about the products they sell and their customers."