Barrel 250 Sauna
Ready For Order
Finance available. Deposits from just £200.
OVERVIEW
Dimensions: 250(D) x 240(W) x 225(H)cm
Introducing our stunning Barrel 250, a sauna that's built to last with seating for up to 6 people. If you've been looking for a quality sauna for your back garden, then look no further. The Barrel 250 has been manufactured using 40mm thermowood and comes as standard with a large, tinted bay window, allowing you to soak up the view whilst you relax. This model comes with two types of heating options, you can either have an all-electric 9kw heater, or a wood-burning heater.
13 amp, 32 amp
Power Supply
Wood-Burning, Electric
Heater Type
CALCULATE FINANCE
ADD FINANCE
Please Note: finance calculations are estimated, we will contact you after your purchase to finalise pricing.
LED lighting
40mm Thermo Wood
Roof Shingles
Electric or Wood Fired Options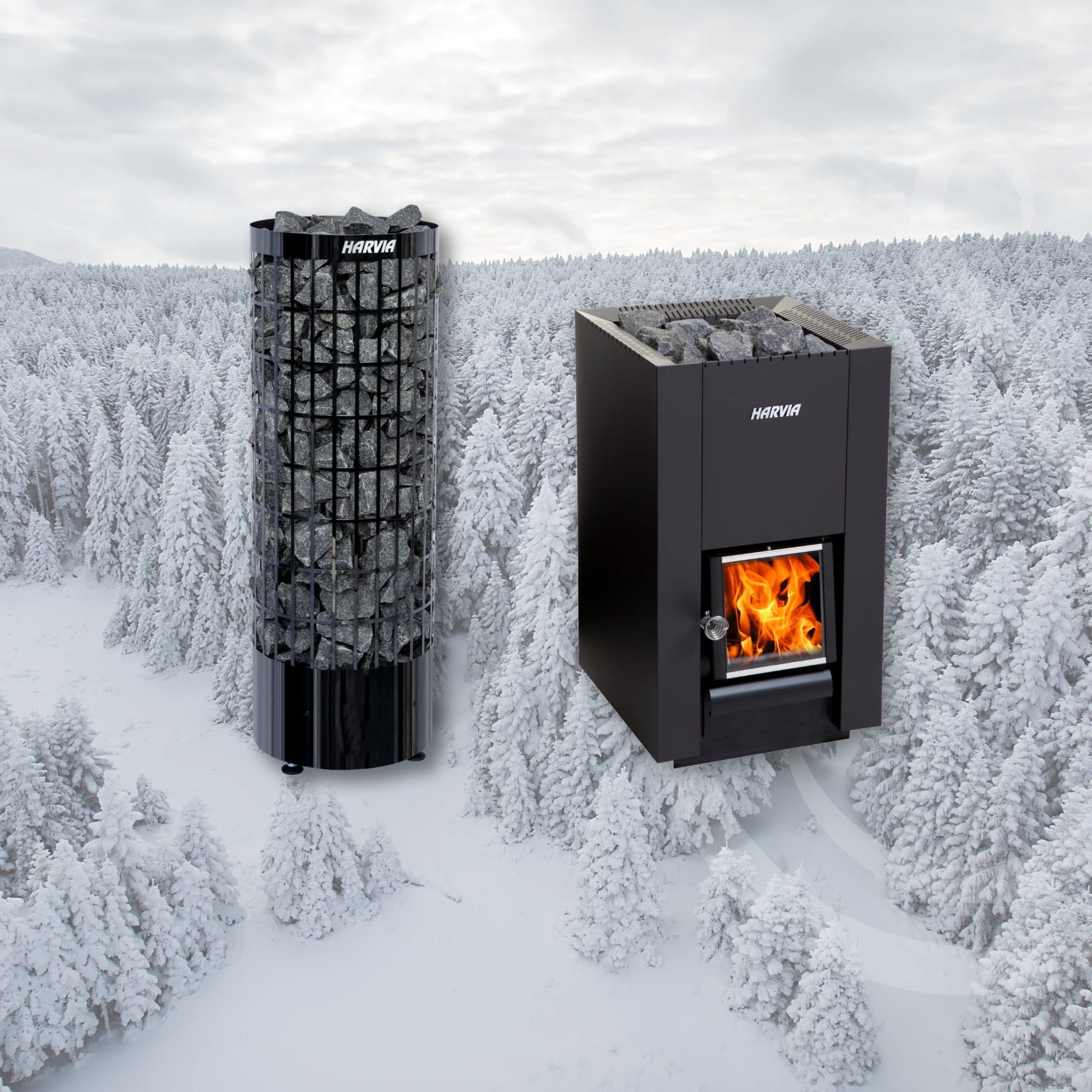 ELECTRIC OR WOOD-FIRED OPTIONS
Our Hekla barrel saunas come with both electric and wood-fired options.
9kw Harvia all-electric heater requires a 32 amp supply and includes:
– Manual controls
– Stones
Harvia wood-burning heater does not require an electricity supply. However, we would advise that a 13 amp feed is installed for the LED lights. The wood-burning option includes:
– Chimney set
– Floor plate
– Insulated chimney
– Stones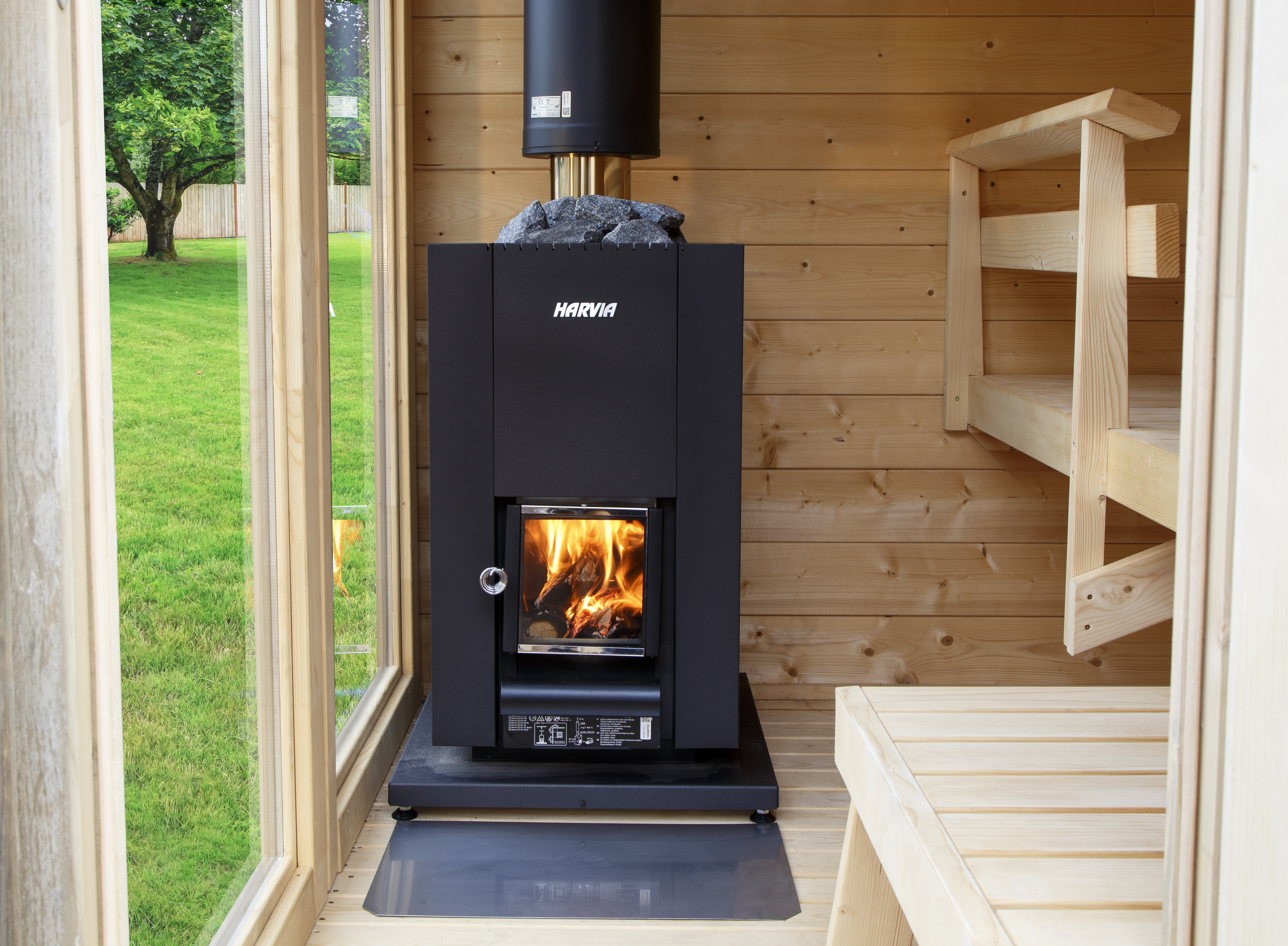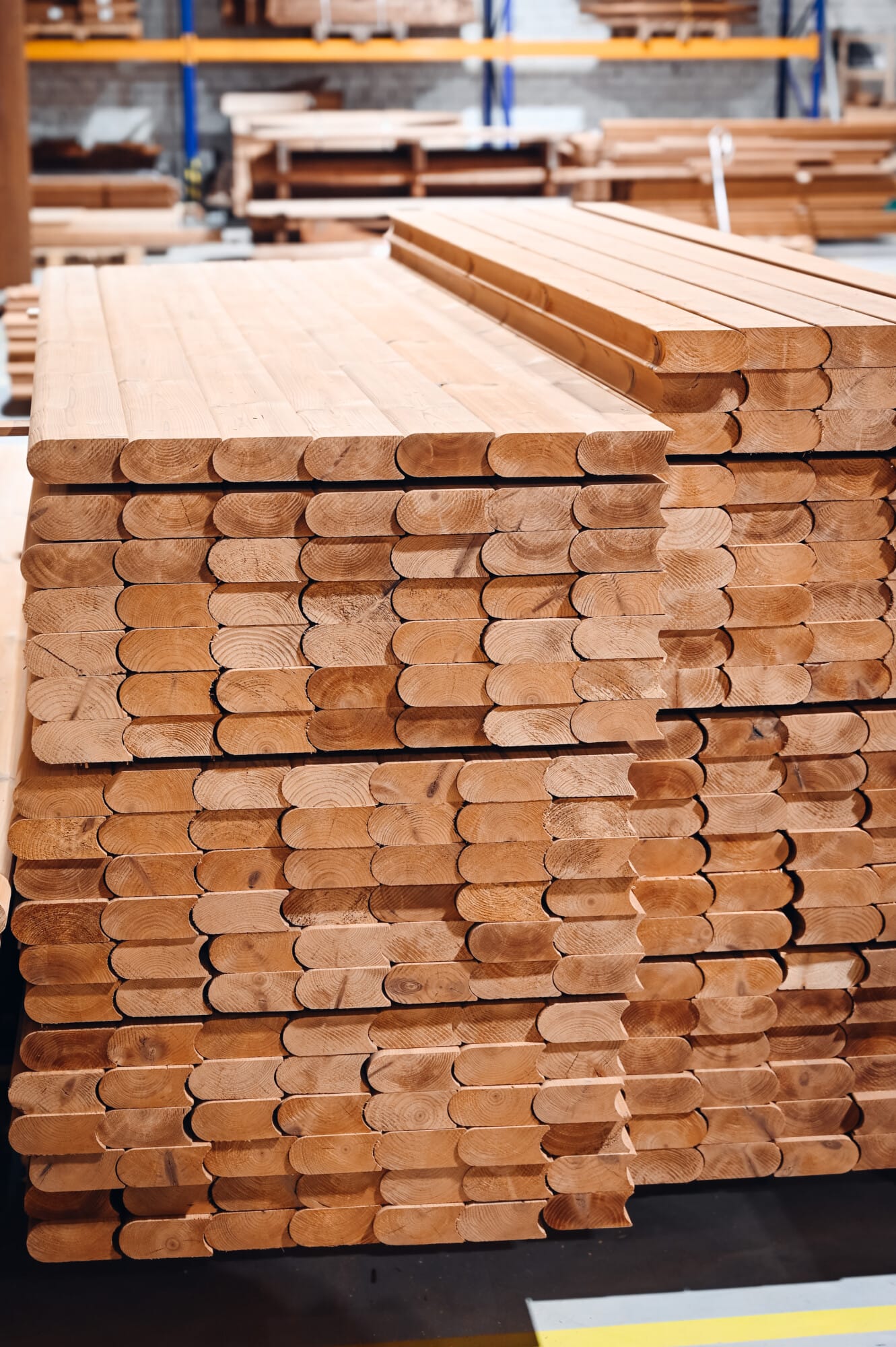 40mm Thermowood
Our Hekla barrel saunas are manufactured using high-quality 40mm thermowood. As such, the saunas look amazing and feel like a piece of premium furniture.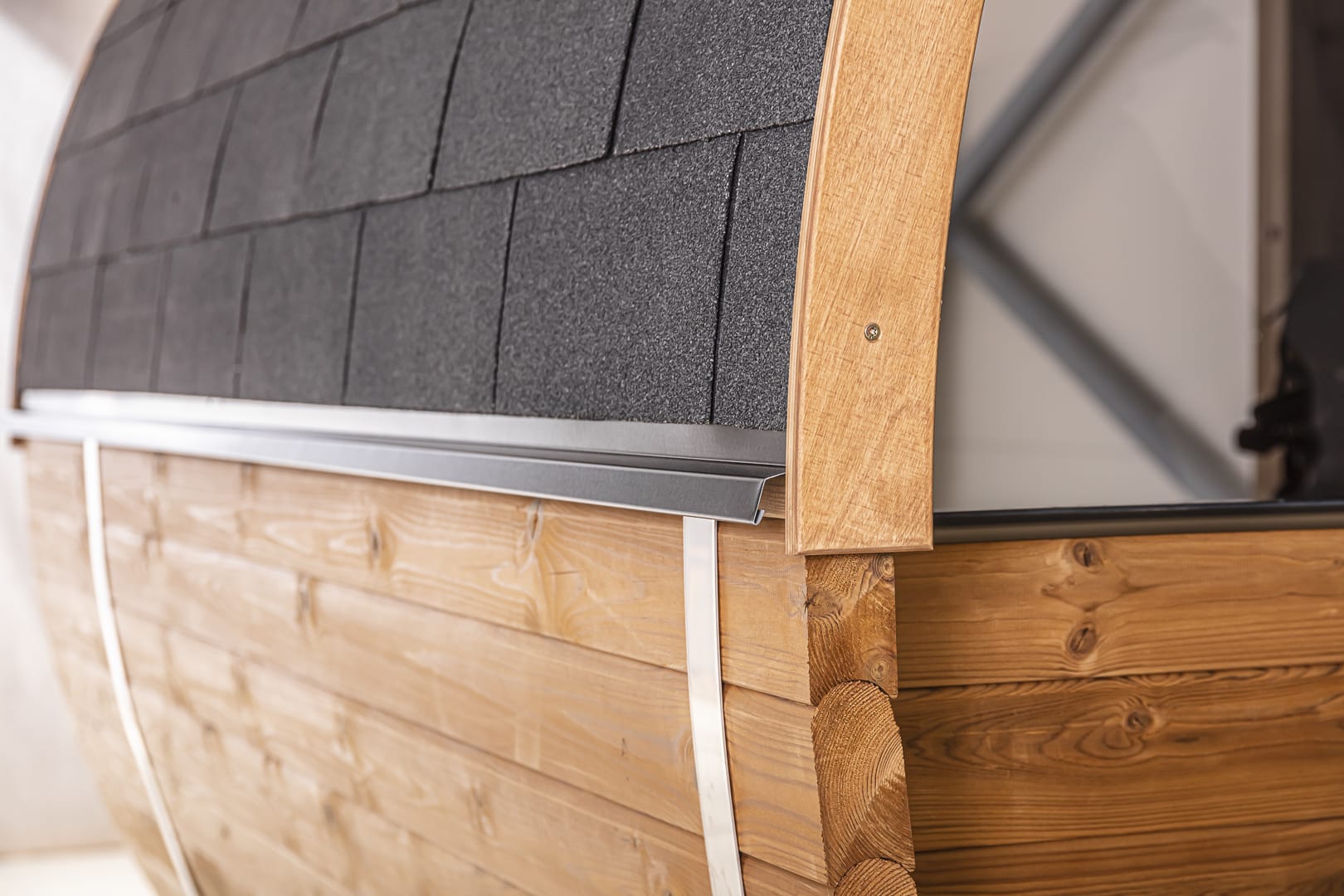 Shingled Roof & Steel Banding
The attention is in the detail. No expense has been spared in ensuring that our Hekla barrel saunas both look incredible and are built to last.
We can't express how important it is that saunas have shingled roofs. This will help to prevent rainwater from leaking through the roof over time and ultimately prolong the life of the sauna.
304 stainless steel banding has been fitted around the sauna, this adds another element of subtle beauty to the barrel sauna. In conjunction with keeping everything together.
WINDOWS
Want to soak up the view whilst you use your sauna? The good news is that our Hekla barrel saunas come with a large 1/2 panoramic bay window which comes as standard with a subtle tint.
The door to the sauna also has a glass pane, because two windows are better than one, right?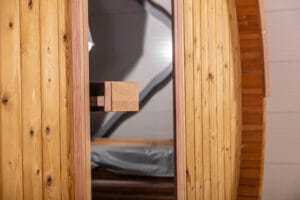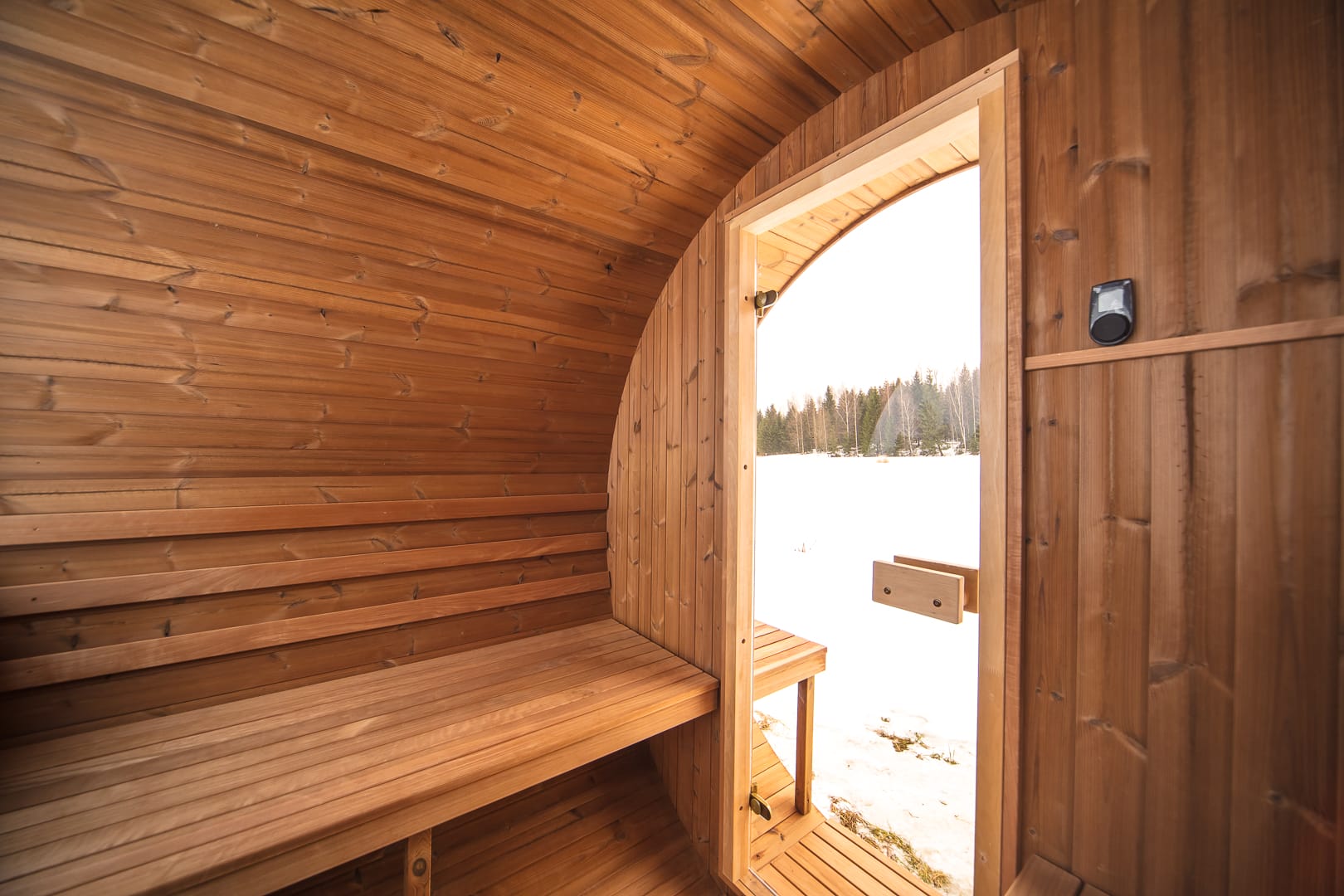 Bench Seating
Inside our Hekla barrel sauna, you will find 2 x large bench seats which offer plenty of room and have been designed with comfort in mind.
Outside, the sauna also offers bench seating on either side of the door. Providing the perfect spot to cool down after a steaming hot session.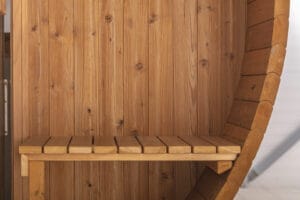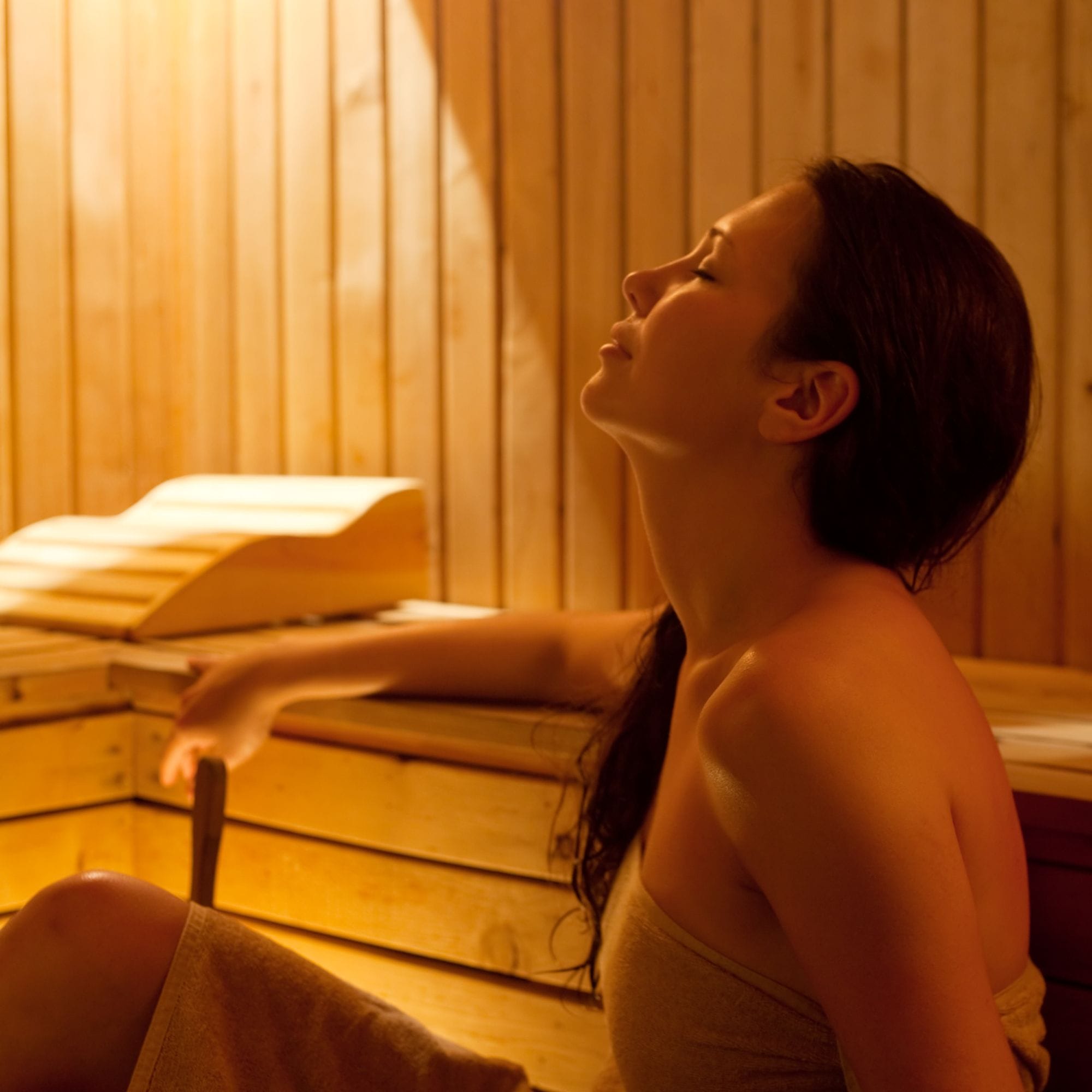 Health benefits of using a sauna
Over the years saunas have become particularly popular among those seeking new ways of improving their health and wellness. Let's face it, saunas feel amazing! The fact that they're also incredibly good for you is a massive bonus.
Here's a short list of some of the many, impressive health benefits associated with using a sauna.
Improved circulation: When using a sauna, your body temperature rises, which in turn causes your blood vessels to dilate. This increased circulation can help bring oxygen and nutrients to your muscles and organs, and can also help remove toxins and waste products from your body.
Reduced stress: Sauna sessions have been shown to reduce levels of the stress hormone cortisol, helping you feel more relaxed and at ease.
Enhanced immune function: Some studies have found that regular sauna use can help boost your immune system, making you less susceptible to illness and infection.
Better skin health: The heat and steam of a sauna can help open up your pores, allowing your skin to breathe and release toxins. This can lead to clearer, healthier-looking skin.
Pain relief: Spending time in a sauna can help ease your discomfort if you suffer from joint pain or muscle soreness. The heat can help increase blood flow to your muscles and joints, relieving pain and stiffness.
So there you have it – just a few of the many health benefits that come with using a sauna. If you're looking for a way to relax, unwind, and boost your overall health and well-being, then investing in a sauna might be just what you need.
SPECIFICATIONS
Seat Layout
2 x internal aspen bench seats (+ 2 x external bench seats, 50cm in width)
Dimensions
250(D) x 240(W) x 225(H)cm
Stainless Steel Banding
2 x 304 stainless steel
Electrical Requirements
32 amp
Heater
9kw Harvia electric heater or Harvia wood burning heater
Flooring
Thermo aspen flooring duckboard
Sauna Ventilation Valve
✔️
Windows
Large panoramic bay window + glass door
LED Lighting
2 x LED lights with switch
More Information
INTERESTED IN THIS PRODUCT?
WHY NOT ADD TO YOUR CART!
Get in touch with us and our expert team will be happy to help answer any questions you have
WHAT PEOPLE SAY ABOUT US
"Mike and Heather were so patient and helpful with advice on the best hot tub for my needs and the space I had in my small garden. Cannot recommend them enough. A great local family run business."
"Greatest variety of hot tubs in north wales. Well informed experienced staff always willing to help and advise without pressure. After sales service second to none."
"Excellent service from this family run business. After-sales support is fantastic from very friendly and knowledgeable staff. Well stocked showroom for all your essentials. This company offers great local service in North Wales."
"Concept Spa have been just brilliant helping us to choose a hot tub for our holiday property on Anglesey. Nothing is too much trouble and they have really gone the extra mile."
"Brilliant family company. Nothing was too much trouble for them. Our experience from initial advice to delivery and installation all first class. Highly recommend Concept Spa for anyone thinking of purchasing a hot tub."
"I can not recommend this company highly enough! Jack's customer service, communication, advice, delivery and the hot tub itself were all outstanding. Thank you 🙏🏼"
"Amazing company and great service. The whole process is so easy and simple and nothing is too much trouble. Excellent value for money too and love my hot tub. Highly recommended."
"Had our fabulous hot tub delivered this week and would like to thank Heather, Mike, Bobbie and the team for everything. Excellent, friendly service since our first visit, a fantastic family run business."
"Concept Spa have been a dream to work with! Excellent customer service and after care. Their staff are knowledgeable, friendly and eager to please. Thank you Concept Spa!"
"Great Company to work with, amazing customer service. Genuine Family run business that cares about the products they sell and their customers."